I was on my daily ramble (more like scramble) through the countryside this morning. It was exceptionally blustery. If I had tried to open my umbrella to shield myself from the onslaught of rain I feel quite certain there would have been a Mary Poppins moment. There was only one thing I could think about whilst battling the elements…Chocolate Concrete.
Chocolate concrete is an old school recipe that I got from my Granny. There's nothing quite like this recipe, it's so versatile, quick and easy to make. I probably make it once a fortnight and it gets consumed like there's no tomorrow.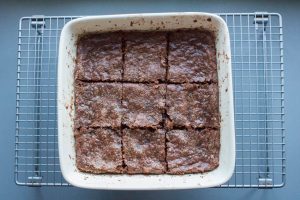 Ingredients
For enough to last less greedy families than mine you'll need:
12oz/300g Margarine

120z/300g Sugar

2oz/50g Cocoa

16oz/400g Plain flour

1/2 tsp Vanilla Extract
Method
All you need do is to melt the margarine and add the vanilla extract to it. Sieve all the other ingredients into a bowl and mix them up. Mix the melted margarine into this.
When you do this you'll be convinced that it'll never mix and there's far too much flour and cocoa and that I'm a fool. Just keep on going and soon it'll look like the above.
Put this into a tin, brush the top with water and then sprinkle with sugar – this gives it a nice crust on top. Bake at about 150C for 15-20 minutes or until firm when pressed.
You can put this into one large baking tin, or two smaller ones if you want to make it nice and thin. If you prefer it thicker then just use one smaller tin but increase the cooking time by 1o minutes or so.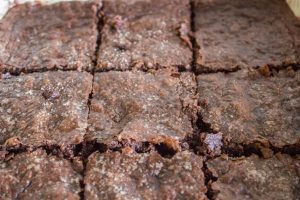 The beauty of this biscuit is that if you put it in a small tin and end up with a fat biscuit, it's almost like a brownie but without all the effort. If you make it really thin you end up with chocolate concrete. Any other thickness is still pure deliciousness.
I used to make this with my Granny and it's still my absolute favourite thing to make and eat. We've progressed onto more complex things now but don't underestimate the simplicity of this bake. If you fancy baking something which hits the spot with minimal effort and washing up or you're short of time then this is the one for you.
Try all sorts of different baking trays to play around with the thickness and see which one is best for you.
Pin for later!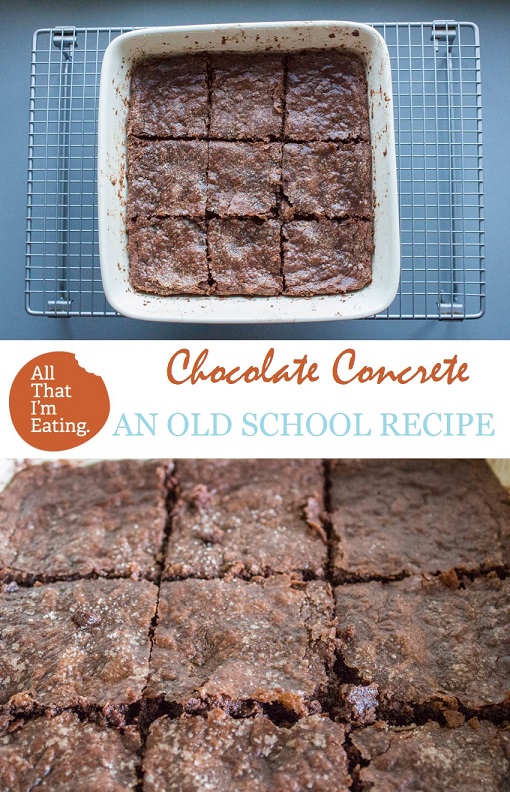 All That I'm Eating