Most people would take one look at our barbecue and wonder what on Earth we were thinking when we bought it. As non-seasoned barbecuers we didn't want to splash the cash and bought pretty much the cheapest barbecue we could find. It's cast iron, uses coal or wood and has just enough space for food for two or three people and it's brilliant. Of course, the first ever barbecue was too hot, the second was too cold but we are pros now and not even a bit of rain will stop us.
I love mixing up my own marinades, sauces and spice mixtures to use and my latest invention are these BBQ lamb kebabs. We served them with halloumi and made a sort of Greek inspired pitta. I should point out that I am aware these are not really kebab shaped, they are most certainly burger shaped; but that makes it easier to move them on the grill!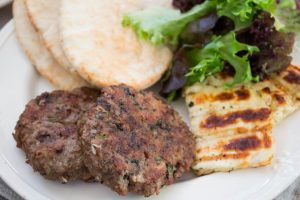 Ingredients
You will need (for two, rather greedy people):
400g lamb mince
1 small onion, finely chopped
2 large garlic cloves, crushed
Small handful coriander, chopped
1 heaped tsp ras el hanout
Salt and pepper
Halloumi, sliced
Pitta bread
Salad, tomatoes, tzatziki, chillies and anything else you fancy
Method
Mix together all the ingredients for the lamb kebabs, really mash everything together well. I find the more mashed up it is the better it holds together on the barbecue.
Divide the mixture into four and form into burger shapes or sausages, whichever you prefer.
Cook the kebabs on the barbecue, or you could grill or fry them, until cooked through.
When the lamb is almost done add the halloumi onto the barbecue so it get nicely charred. I like to put the pitta bread on the barbecue to warm through too.
Serve with salad, tomatoes, tzatziki and anything else you like!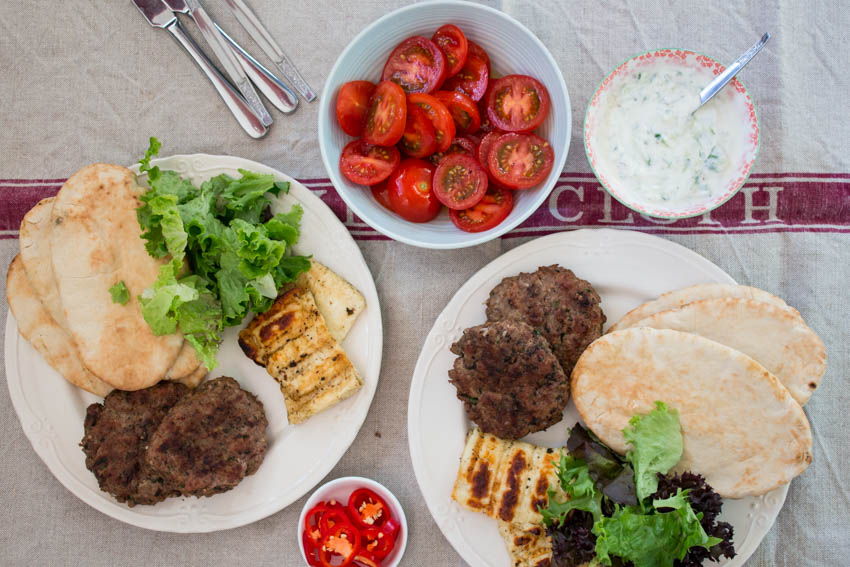 This would be a marvellous meal if you fried or grilled it but that smoky flavour that you get from the barbecue just gives it an extra level of taste. The halloumi is naturally salty so go easy on adding salt to the lamb. Loaded up in a warm, toasted pitta with garlic spiked tzatziki and handfuls of fresh salad it's summer in a mouthful. If you haven't made tzatziki before I have a recipe for a beetroot tzatziki which would be wonderful with these BBQ lamb kebabs.