I've got a confession to make. Although my evening meals are varied and I'm always trying something new my lunches always seem to get forgotten about. I just never remember to plan anything exciting for my lunch so I always end up with either a sandwich or a bowl of soup. So I was really looking forward to trying these meals from City Kitchen; something different every day for lunch and things that I would never normally prepare myself. The range of City Kitchen meals (available at Tesco) have been inspired by their chef's travels; I really liked the sound of every meal I had to try.
Whenever I buy something I haven't tried before I always head to the back of the pack to read the label. I was very pleased to see that I recognised all of the ingredients used in all of the meals, no nasty surprises in there! The meals were really easy to prepare, clear instructions and nutrition information on every one. The only problem was knowing which one to try first.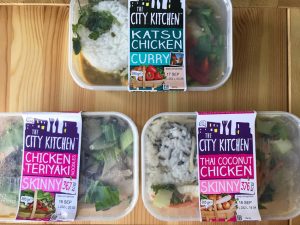 I must start by telling you that I have an intolerance to shellfish and therefore I was unable to try any of the meals containing prawns. However, I handed them to the only lady who is up to the task, the harshest critic of them all: my Granny. There were three flavours: King Prawn Thai Red Curry, King Prawn Chicken Chorizo Paella and King Prawn Sundried Tomato and Chilli Linguine. She was pretty impressed by all the meals, the amount of ingredients (i.e. the number of prawns, fresh herbs, chopped veg) and the portion size. She particularly liked the sundried tomatoes with the prawns in the linguine, the chunkiness of the paella and all the different spices in the Thai red curry. All in all, a thumbs up from her.
Vegetable, Coconut and Lentil Pilaf
This was first to try, I really liked the sound of the coconut and lentil pilaf. When I served it up I was pretty amazed by how many whole spices there were throughout the meal. The cauliflower and sweet potato were great together and the lentils through the rice added a bit of texture. That curry sauce though, I need the recipe for that. It was fantastic. I think this was actually my favourite of all the meals.
Malaysian Coconut Beef Curry and Skinny Thai Coconut Chicken
I was impressed by both of these for different reasons. The beef curry, which I had to take a second photo of so you could see how much veg was in there, was really good. There were large pieces of beef which just fell apart and it felt like a hugely generous portion of meat, sauce and fresh crunchy veg with rice. These different textures worked together really well and the lime leaves, lemongrass and coconut give a lovely fragrance.
The skinny coconut chicken I really don't think you would know was a 'skinny' version. There was so much flavour and again it felt like a generous portion with plenty of vegetables. I particularly liked the pak choi in this with the carrot and mooli giving a lovely extra texture.
Malaysian Chicken Curry Noodles and Pulled Pork Steamed Bun
When I cooked both of these at work everyone said how good they smelled (I didn't eat them both on the same day!). The Malaysian curry noodles were my second favourite of all the meals I tried. I really liked how the veg had been chopped to a similar size to the noodles, I reckon they could get away with adding even more veg for a skinny version, and I really liked how much flavour the marinated chicken had. Coupled with the curried noodles this one was right up my street, a good chilli kick too.
I wasn't sure how the pulled pork bun was going to come out; both texture wise and out of the pot. The bun simply popped out of the pot once cooked and the bun was lovely and fluffy. There was a good amount of filling; not too much that it spilled out of the other side and just enough for lots of flavour. The cabbage and spring onions gave a lovely freshness with the pulled pork.
Shredded Duck Hoisin Noodles and BBQ Pulled Pork
The hoisin flavour in the duck noodles had a good balance of sweet and savoury, I could have maybe done with a little more hoisin because I love the stuff! There was plenty of shredded duck which meant you got some with every mouthful of noodles. Again the added vegetables gave it a nice freshness and different texture. The duck itself is marinated before being added and it really adds to the flavour.
You'll have to forgive my photo of the pulled pork; there was cheese on the top but when I went to put it on the plate I turned it upside down by mistake so the cheese ended up at the bottom! It didn't really matter because this was so full of flavour; it was one of my favourites. I really liked the faint chilli kick, the smoky flavour and all the spices. There was a generous amount of pork which was really tender.
Skinny Teriyaki Chicken Noodles and Katsu Chicken Curry
This skinny meal was similar to the other one in that I'm not sure you'd know it was skinny unless someone told you. I thought the colours were great; the edamame beans, pak choi and mushrooms made it look really appetising. Personally I found the teriyaki sauce a little on the sweet side but it was very tasty and there was plenty of chicken so again a really generous portion for something skinny.
The katsu curry was the last to try and I really liked it; I was surprised by how much I enjoyed the water chestnuts, I'm not normally that keen on them, as they gave such a crunch. The peppers and spring onions made it look really colourful and the curry sauce had a really nice freshness. There was a delicious sesame flavour throughout too.
After trying all the meals I would definitely try any new flavours City Kitchen add to their range. The portions and ingredients are generous and the flavours are great. There are two things that I think would add to the City Kitchen range. First would be to add instructions for cooking the meals without a microwave, I don't have one at home myself so it would be great to have an alternative method of cooking. Second would be to see more veggie and vegan options in the range; maybe a bean chilli, a macaroni cheese type meal or a vegetarian version of the chicken curry noodles. I will certainly be looking out for these meals when I'm shopping as it was great to have something hearty, filling and warm for lunch. No offence sandwiches.
This is a sponsored post with City Kitchen. City Kitchen sent me the meals to try and I was reimbursed for my time to snap the meals and write this review. All opinions and views expressed are my own. Thank you for supporting the brands that support me.