I planned a brilliant road trip; it was all mapped out, places of note to stop at if there was time, places to stay and eat all sorted. There was going to be plenty to see and do and then after a series of unfortunate, last minute events, the plan went out of the window entirely and a new road trip was drawn up rather hurriedly, while on the road! But you know what, managing to see two UNESCO sites in two days and then tick somewhere else off my bucket list makes for a pretty good road trip; even if the routes seem a little erratic. Our Ironbridge to Blaenavon to Cheddar trip was slightly spontaneous and all the better for it.
After staying a night in Stow-on-the-Wold in the Cotswolds for a friend's wedding we headed up to Ironbridge; one of many UNESCO listed sites in the UK. We stopped off in Worcester on the way for a very brief glimpse of the cathedral and to grab a coffee, reached Ironbridge just in time for lunch and went off to explore. I am pleased to report that the bridge itself is free for everyone to walk over and under and that Ironbridge itself is a really sweet little town.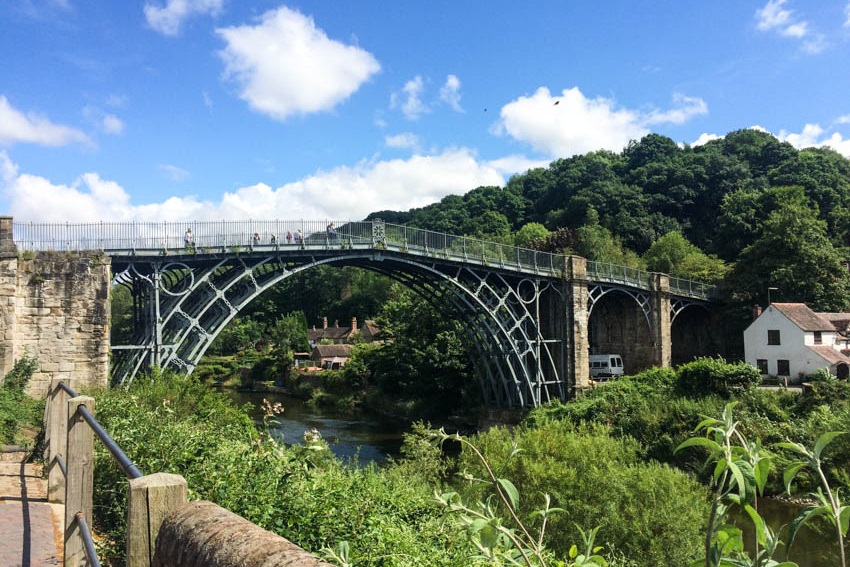 Ironbridge
We were short on time so wanted to find out as much as possible as quickly as possible and opted to visit the Museum of The Gorge. At £4.50 a ticket to get in my expectations were high, too high I think. The museum was small, the mini replica of the Ironbridge area is nice and there are a few tiles on the walls (which I knew were there as they made (or still make) tiles just down the road) but it was all pretty disjointed and I learned absolutely nothing about the bridge itself or the industrial revolution. I did learn that the building the museum is housed in gets flooded from time to time though thanks to a nifty 'history of floods' giant ruler on the wall.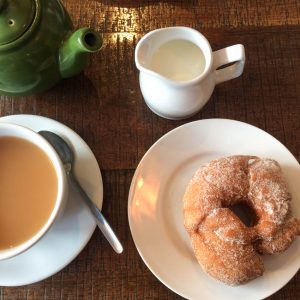 Pretty disappointed and without time to head anywhere else, the Tollhouse on the bridge was closed half an hour before it said it would be, we cheered ourselves up with a cracking coffee, tea, cake and doughnut at Number Nine which is definitely worth a visit.
There are plenty of B&Bs in Brosley, the village right next to Ironbridge and we stayed at The Old Rectory which was a great location, really comfortable and does a cracking full English! We'd decided that as we were so close to the Welsh border to head to Wales and another UNESCO listed site: Blaenavon.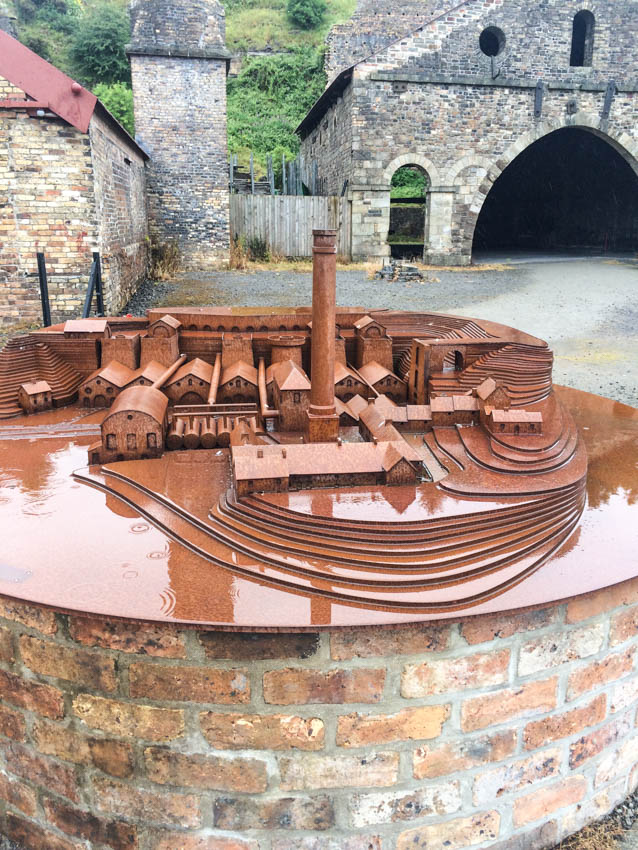 Blaenavon
Before we went to Blaenavon I wasn't too sure what was there and what it was all about. I left Blaenavon knowing so much about it; the site was so well laid out and interesting. And it's all free to get in to, apart from the Big Pit, more on that later. We did, of course, leave a donation.
The Ironworks have a great exhibition showing the workers houses throughout the years; each house is made up as it would have been in that year from the late 1800s to the 1960s and you can walk around each of them. You can see in the photo above the big brick building in the background, inside which is a big scale exhibition with lights, projections and a lot of noise to give you an idea what it was like to work there. One of the best bits is when they start to simulate pouring the molten iron from the top of the room; they cleverly use lighting installed on the floor to show how it flowed down, settled in the moulds and made the railway tracks. Which incidentally were used at Ironbridge.
The Big Pit is walkable distance from the Ironworks but by this point the heavens had truly opened so we opted to drive there. You do need to pay for parking at Big Pit but considering this is a whole other site the £3 parking seems like a bargain. There was quite a queue to go down the pit, so much so, that after the third group had been called and we'd been waiting half an hour we actually aborted the mission.
There's another clever exhibition showing you around the caves at Big Pit, including a quite alarming moment where one of the machines they use starts whirring away. It had some sort of terrifying name like 'The Many Toothed Ultra Fast Rock Remover' and trust me, you wouldn't want to be on the wrong side of one of those.
After Blaenavon we headed to Ross-on-Wye. Another charming town which had some great independent shops, cafes and delis. A visit to Field Fayre meant we stocked up on all sorts of organic goodies, including the best sourdough bread I've ever eaten.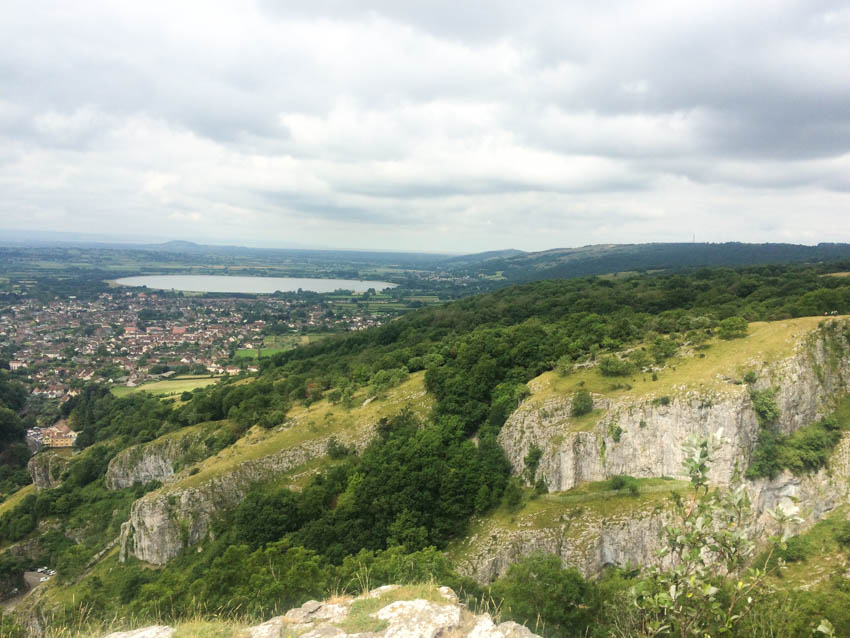 Cheddar Gorge
We went home after Ross-on-Wye ready for an early start the next day to Cheddar Gorge. Not content with one gorge in a week I've wanted to head to Cheddar Gorge for ages so it was the perfect time to go.
There are three main things to see at Cheddar Gorge: the gorge, the caves and the town. To see the gorge and caves is £18 per adult and you pay for parking on top of that and I am a bit conflicted about paying to see a natural part of the landscape. For me, the gorge should be free for everyone to see and explore, however I know that it needs to be maintained and rubbish etc. removed. The caves were great and I completely understand charging to get into these. Having said all that you can get to the gorge without paying; it's further away and getting to the see the view takes longer so if you do pay and walk the Jacob's ladder then you are sort of paying for the convenience.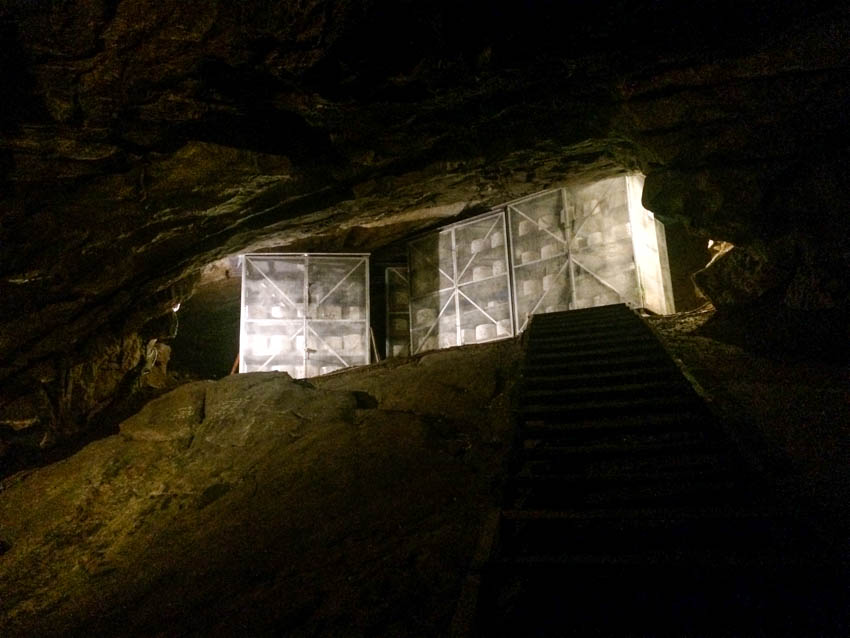 We walked up the 274 steps on the Jacob's ladder meaning we gained height pretty quickly and got spectacular views of the gorge and beyond from the top of the viewing tower. The tower has the names of different cities at the top showing you how far you are from each one.
The photo above is actually of the cheddar cheese that's matured in the caves. Only the Cheddar Gorge Cheese Company mature there cheese in here and their cheese straws are worth seeking out, they are divine.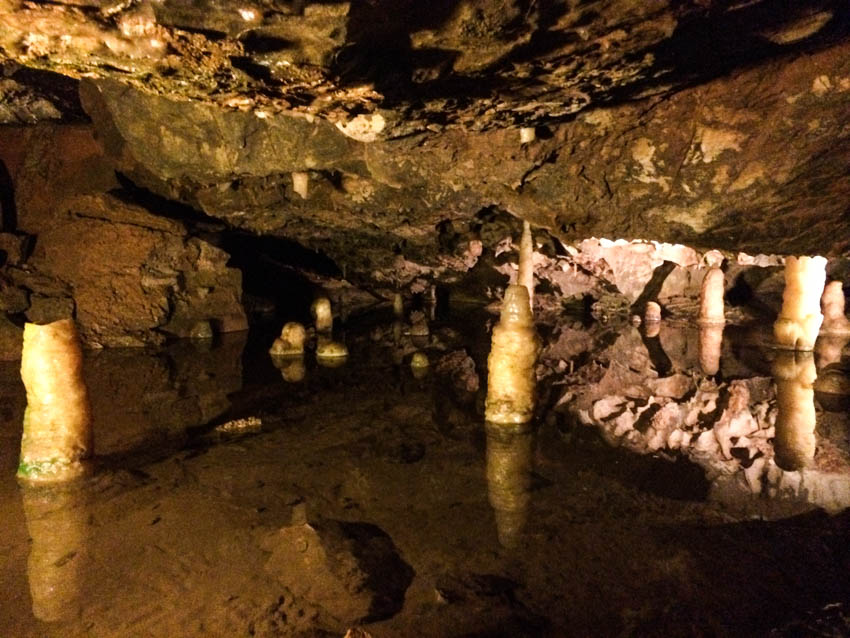 You could spend all day walking the gorge, we walked around the top and then through the gorge to get back to the town for lunch. There's plenty of places to choose from, I can't recommend where we ended up! Next we headed to the caves of which there are two: Dreamhunters and Gough's. Dreamhunters is an interactive cave where you follow little projected cavemen around, come face to face with a woolly mammoth and get chased by digital wolves. This is definitely one for children but I enjoyed it!
Gough's cave is the one you can see in the photo above, full of lighting to make the most of the natural carvings and formations, some of the caverns in here are astoundingly large. You can get an audio guide to accompany you around here but I gave up with mine, he talked far too slowly!
We crammed a lot in to just three days and I ticked off three places that are either on the UK UNESCO list or on my own UK bucket list. I need to get planning the next road trip now.