This was a gifted meal.
I do love a good afternoon tea, everything about it just demands some time out to properly sit back, enjoy and relax. There have been a few occasions where I've slightly overindulged on the clotted cream I have to admit. I was invited to try the new vegan afternoon tea available at Careys Manor Hotel; I was really looking forward to trying it and was really curious to see the desserts most of all!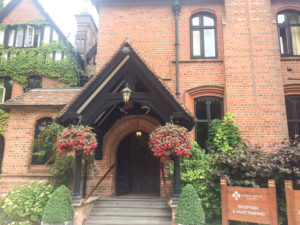 Careys Manor is just outside Brockenhurst in the New Forest so we spent the morning wandering around the Blackwater tall trees trail; a collection of some of the tallest and oldest trees in Britain. We then wandered over to the Blackwater arboretum to walk the sensory trail and see trees from all around the world. Both of which are free to get into and to park at.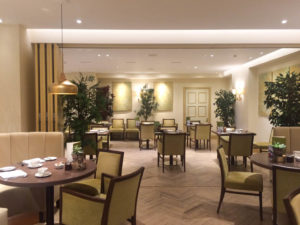 And then it was time for afternoon tea, we had an early booking at 1.30pm so we could take plenty of time to nibble and natter. The vegan afternoon tea is available for £24 per person. The dining room above is where we sat to have our tea in a lovely curved booth, there were a few other tables having tea too but the room is designed so that everyone is sat close enough for a nice atmosphere but far away enough to enjoy your own conversation.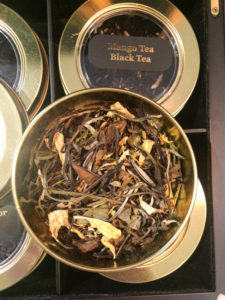 First of all came two great tea chests; we could open, sniff and choose which tea we would like to have. There were green, white, black, fruit and flavoured teas. I chose to have Darjeeling, it's a classic, the OH went for the white fusion tea. I loved the teapots they came in and they arrived with a little egg timer too so you can get your brew just right.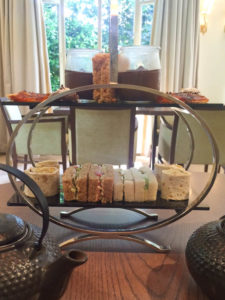 So, on the first layer of the beautifully laid out sandwiches we had: falafel and hummus wrap with chargrilled sweetcorn, lime and quinoa wrap, salad sandwich on brown and avocado and sesame on white. I did like all the sandwiches, the falafel one really stood out as the winner. If I could have changed anything slightly it would have been to add some chopped chives to the salad sandwich to give it a bit of a hum and maybe a drizzle of vegan teriyaki sauce in the avocado sandwich.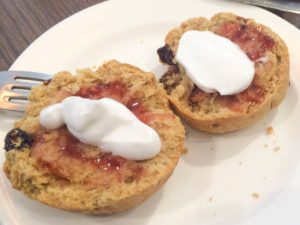 The scones were warm when they were brought over which I think is always a bonus! We were offered some soy coconut yoghurt to go on the scones rather than traditional clotted cream and I really think they're on to something. The combination of warm scone, sticky raisins, strawberry and coconut was delicious!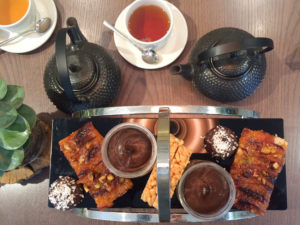 Last up, and let's be honest, the layer we're all waiting to get to in any afternoon tea situation: cakes! If your afternoon tea turns up and there are less than four cakes then it doesn't count as far as I'm concerned. Luckily for us, we did have four little sweet treats to try, they were: coconut and chocolate truffle, apricot tart, chocolate mousse and rice crispie cake.
The coconut chocolate truffle was like a homemade Bounty, lovely and soft to bite in to. The apricot tart was sharp and worked so well as a contrast to the other sweeter puddings; the pistachios on top were a nice added texture. The chocolate mousse was avocado based and there was a little added spice, maybe chilli, cinnamon, something like that. It was a subtle spice but gave it an edge. The rice crispie cake was sticky and delicious, the slight peanut butter flavour really made it for me, I'd say that was my favourite of the four.
The extra details like chargrilling the sweetcorn and adding just a little spice to the mousse really made it go over the line from a simple vegan afterthought to something where they have really put thought and effort in. It's not just a good vegan afternoon tea, it's an excellent afternoon tea.
This afternoon tea was paid for by Careys Manor, thank you to them. All opinions and words expressed are my own. Prices correct as of 8.7.17. If you wanted the vegan afternoon tea you do need to give the hotel 48 hours' notice.