I made some enchiladas a few weeks ago and added one chipotle chilli for four people. You couldn't taste it at all; there was a little bit of smoky flavour but no chilli heat; it wasn't the end of the world, they were still very tasty. When I made this Smoky Chipotle Tomato Soup I added one chilli again, this time for two people, and it was probably the hottest thing I have ever eaten. It's amazing how different two chillies that look just the same can have completely different heat levels. Despite it being so hot, it was actually rather delicious. Served with lots of bread and a glass of milk.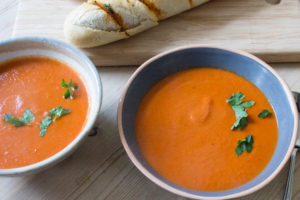 Ingredients
You will need (for two generous bowls):
1 onion, roughly chopped £0.10
1 carrot, diced £0.08
Olive oil for cooking £0.10
1 large garlic clove, crushed £0.05
1 chipotle chilli, roughly chopped £0.20
1 tin tomatoes £0.75
1 tbsp tomato paste £0.05
250ml vegetable stock £0.30
150ml single cream £0.55
Salt and pepper £0.05
Total £2.23
Method
Start by frying the onions and carrot together in a little olive oil on a medium heat. Cook them for at least 15 minutes and then add the garlic and chipotle chilli and fry for another five minutes.
Pour in the tomatoes, vegetable stock and tomato paste and bring everything to a boil. Reduce to a simmer and simmer for 15 minutes.
Blend the soup until it's the texture you like (I like mine almost completely smooth) then return to a low heat, add a little salt and pepper and the cream. Stir everything together then serve with some crusty bread. You can top with a little fresh coriander if you like.
I served this with some bake at home baguettes that I had pre-sliced before baking and I spread a little sundried tomato paste and parsley to each slice before baking.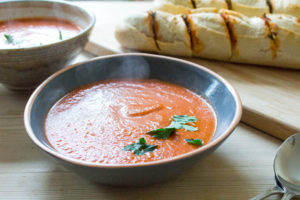 I do like adding a dribble of cream to a tomato soup; in this case it did help to take the edge off the chilli. The base of carrots and onions adds a lovely sweetness to the soup along with the savoury flavour from the stock and the slightly acidic tomatoes it ends up lovely and balanced with a smoky backbone and, in this case, very spicy. If you don't fancy it as hot, add a little smoked paprika for a similar smoky tomato soup without the chilli heat. Simple to make, cheap and easy to scale up for more portions this is a vibrant, happy soup for a rainy spring day.