I find I get a craving for tropical flavours this time of year; pineapple, mango, dragon fruit and such but it's a bit of a bore to just eat it raw.
I have been enjoying a coconut yoghurt with banana for breakfast but I wanted to make something creative with it. I do like yoghurt on its own but I think it gives a great flavour to icings, ice creams and other desserts. I like the tang and interest it brings and so it was high time I got my Hawaiian shirt on to start making a delectable panna cotta.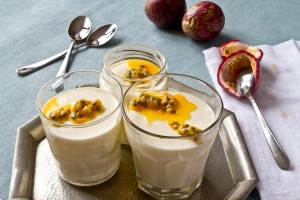 Ingredients
You will need (for three big panna cotta which could easily be four if you're not as greedy as me):
150ml double cream

2 tbsp caster sugar

2 sheets of gelatine

450g coconut yoghurt (I used Rachel's)

A couple of passion fruits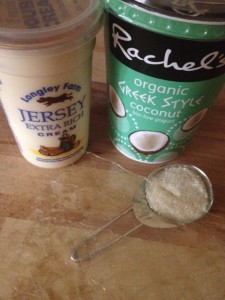 I was intimidated by gelatine the first time I used it; it was new and untrustworthy. Now I consider us great friends as it always works and does exactly what you want it to. I wouldn't be without the stuff now, ready to set any liquid you put in front of it into a quivering solid. Previous to this I had not tried to make a jelly with anything other than wine or cider and I wasn't convinced that a sugar syrup would mix in very well with the yoghurt. So I decided to dissolve the gelatine in cream instead.
Method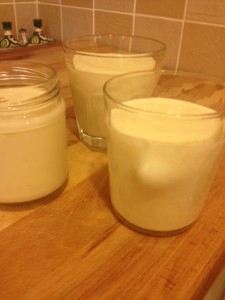 Put the cream and sugar into a pan and heat gently until it's almost boiling. Stir it constantly to stop the cream sticking and to ensure the sugar dissolves.
While the cream heats put the gelatine into a bowl of cold water to soften.
When the cream has almost boiled remove it from the heat, squeeze out as much water as possible from the gelatine and then add this to the cream.
Stir the gelatine into the hot cream until it has dissolved. Wait for it to cool down a little before mixing in the yoghurt. Stir it all together well before dividing between glasses, ramekins or whatever you fancy and refrigerate for at least two hours or until set.
When the panna cotta is ready spoon out the seeds from a passion fruit onto each pudding.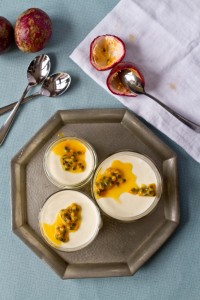 I know traditionally you are supposed to upend the panna cotta so that everyone can see you've achieved the perfect wobble. However mine were rather large and I think quite charming left in the glasses that I used. It was also much easier to eat than any panna cotta I've ever had because you weren't chasing the wiggling pudding around the plate. The coconut yoghurt added a great texture because it is full of desiccated coconut and the flavour was distinct yet subtle. The passion fruit was an essential acidic addition as it lifted the whole dessert and gave a lovely crunch too. This is definitely a treat for banishing those winter blues.