As one of those people who would rather sit down and pick at fifteen different dishes instead of a complete meal a BBQ is perfect for me. I wish I had the energy to create authentic Tapas on a regular basis but until then I am finding all sorts of little things to throw into the standard BBQ line up. 
Potatoes will always crop up in some form or other at a BBQ. Chips, baked, in salads, boiled and any other form you can find. I wanted something that hit the potato spot but that was also a little different; mini bubble and squeak. As usual, this dish is made from ingredients I get from my local farmers' market. I call these mini bubble and squeak but call them potato cakes or what you will. They have potato, a hint of onion, a bit of earthy cabbage with a golden, crispy, salty outside and delicate white fluffy middle…what more could you want?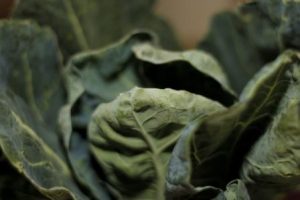 Ingredients
You will need (for 6-8 small potato cakes):
500g potatoes
Small bunch spring onions
Handful spring cabbage
Small handful chives
Salt and pepper
Butter for frying
Method
Start by peeling and then boiling the potatoes until soft. Drain the potatoes and leave them to cool. While they cool, chop the spring onions, cabbage (as much or as little as you like) and chives.
I like to put the chive flowers in too if not just for the colour.
Mash the potato, mix in all the other ingredients and season. Take small handfuls of the mixture, form into balls and then squash to make them flatter.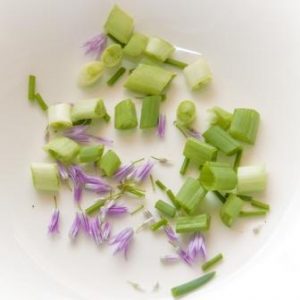 Heat some butter in a pan until foaming. If you want the outside golden and with the slight saltiness you must use butter, it's just not the same with oil. I do add a little oil to stop the butter burning but not much. These little cakes like to soak the butter up so have some spare to dot around the pan. Place the cakes in the pan, you may have to do more than one batch, and wait until they are golden until you turn them over. Turn them too early and you might end up with a right mess.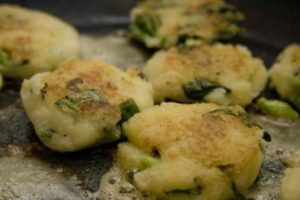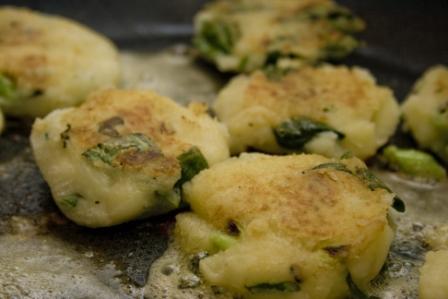 They are done when they are golden brown enough for you. Keep the heat low/medium as you don't want any burning before browning. A treat for a BBQ but great with anything else too.