A new year and many resolutions to break. I decided to start with good intentions however with a fresh, earthy and filling soup.
It had three main ingredients; celeriac, leek and apple. To be frank and somewhat rude, the celeriac is not a looker. If you've been through life without the celeriac, please overlook its brutal looks in favour of its wonderful flavour. My apple was half a Russet and half a Kentish somethingorother and rather strikingly large. My leeks were still covered in mud and had a little frost still left from picking in the green ends.
The Farmers' Market can offer these things in a way that nothing else can. It is for vegetables like this and a hundred other reasons why I love it so much.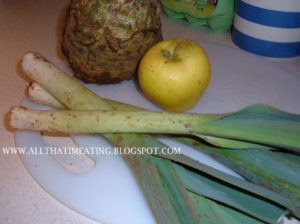 Ingredients
You will need (for 4):
1 celeriac
3 medium leeks
1 large apple
75-ml vegetable stock
Knob of butter
Salt and pepper
Method
From amidst my drawer of knives I took the largest, sharpest and most ferocious of the lot and started hacking the leathery outside of my celeriac. It was brilliant exercise so at least one resolution can be ticked off. I washed and chopped the leeks and then fried both in some butter until a little soft.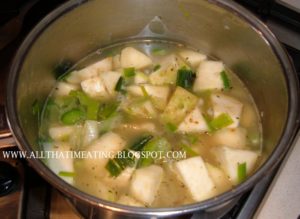 I added just enough stock to cover the veg and some seasoning and let it bubble away merrily until the celeriac was almost tender – about 10 minutes.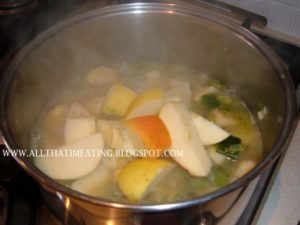 I added the apple (skin on) just before I was ready to blend because I wanted to keep the freshness and texture. Blend the soup to the level of lumpiness that suits you. While you re-heat it, put some cheese on toast under the grill.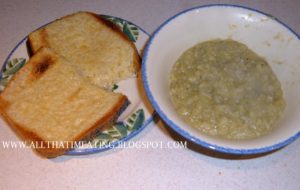 Adding an apple to soup was a new concept to me and I cannot recommend it enough. It lifts what might have been a dull, one dimensional soup into something with a bit more pizazz. I've seen it tried in tomato soup, courgette soups and pumpkin/squash soups.
I like to have cheese on toast rather than bread as I feel it makes it more of a meal. Cheese and celery are happy campers, cheese and apple are happy as Larry and cheese and leeks are joined at the hip. Could cheese on toast be more appropriate?