First and foremost I must start by telling you that all the food in Gothenburg is really rather good. My top tip is to make sure you eat out with as many people as possible so you can nick food off their plate to try everything. Luckily we were travelling in a pack of four (the OH, his sister and her husband, and me of course). We ate out for almost every meal and whether you are in a coffee shop with some excellent kanelbullar, an Italian deli (Fratelli Gridelli) which makes just three pasta dishes (all of which were incredible) or a restaurant with a view (Gothia Towers I'm thinking of you) they know what they're doing. The meal which stood out the most for me was the one we had on the first night at Bar Centro. Coffee shop by day, bar and tapas by night.
On the night we went there were two staff. One guy in the kitchen, which was superbly open plan and compact and one chap out front who couldn't have been more friendly and helpful. The food was absolutely fantastic.
There was an extensive wine list but we put our trust in the waiter to choose something red and full bodied. We ended up with a French bottle of red which simply said 'rouge fruit' and it was great.
We ordered almost one of everything on the menu and I didn't manage to get a picture of some of the bits as I was too busy gobbling. For the first round we shared a plate of thinly sliced and very fatty (in the best way) salami, some salsify topped with pistachio cream and sorrel (below left), pork scratchings filled with garlicky cream and Morlacco cheese and tofu cubes covered in Grappa and olive oil (below right). I'm not sure I need to add more words than the names of each dish; they were as good as they sound.
The next round we had aubergine, pablano and ginger croquettes; crispy potato, onions and slow cooked egg (both below left), celeriac, black garlic and mushrooms; chicken, ginger and spring onion salad (both bottom right). I don't know what they did to that celeriac but it was just incredible; sweet, earthy and perfectly cooked with the most savoury black garlic sauce and slightly chewy mushrooms. The croquettes had a fantastic spiciness, the slow cooked egg melted into the onions and crispy potatoes in the most unctuous way imaginable and the chicken salad was such a simple combination of flavours but somehow it was better than the sum of its parts.
Pudding was Clacbitou cheese with pumpkin puree; tangy goat's cheese and sweet seasonal pumpkin are always going to work well together. We also had black sesame and white chocolate mousse with apple granita. The combination of distinctive black sesame with sweet white chocolate was just amazing with the sharp, cold apple.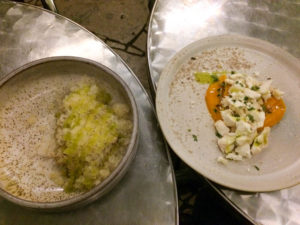 This was probably one of the best meals I've ever had and Bar Centro is definitely worth a visit. Maybe even plan a trip to Gothenburg just to go there. I should mention that there's only three or four tables in this restaurant, make sure you book or are early. We were lucky as we turned up late on a Wednesday night. We also popped in during the day to try out their coffee and took up one of the tables outside. Hands wrapped around a hot cup of coffee, a chilly autumn wind and a little warmth from the electric heater; it's a great place to watch the world go by.