When it comes to adult soft drinks there are some good options but I don't like any that are overly sickly and sweet. Fruit juices can be good but they are a little dull; I'm after something which is a bit snazzy. A drink where there has been a little effort put in. My no alcohol pomegranate mojito is so easy to make and packed full of flavour, the pinks and greens are so lovely together and using tonic rather than lemonade gives this mojito a nice bitterness. I made these recently for two guests that came round as I knew both of them wouldn't be drinking and they went down a treat. You can't go wrong with mint and lime together as far as I'm concerned.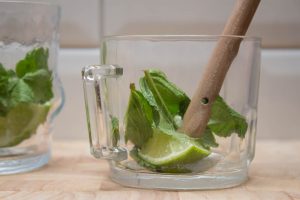 Ingredients
You will need (per glass):
2 quarters cut from a lime
2 small sprigs fresh mint
Pomegranate juice
Tonic water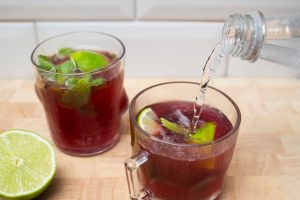 Method
Start by putting the lime and mint together in a glass and bashing them together with the end of a wooden spoon. You can use a muddler if you have one. Squeeze the lime juice out and bruise the mint well to let all the flavours mingle.
Pour the pomegranate juice in until the glass is about two thirds full then top up with tonic water.
If you have any pomegranate seeds or ice to add in they would be great additions.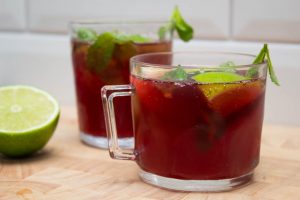 Pomegranate has such a rich fruity flavour that works really well with the slightly bitter tonic to lift the drink up. The sharp lime and aromatic mint are classic mojito ingredients and you could of course add a little rum if you wanted to. Soda water would be worth a try instead of the tonic too. I like to add a little mint leaf or lime wedge to the side of the glass so it looks a bit more special. I can see several more of these being mixed up soon!