When I was in Spain I ordered a dessert on the assumption that there had been a translation error on the menu. They can't mean cheese ice cream, surely, they must mean cheeseCAKE ice cream, that'll be delicious. Nope. Along came some cheese ice cream with a massive cracker on the side. What a revelation it was. The 'cracker' was actually a slightly sweet, very thin, fennel infused biscuit covered in sticky honey, which when dunked in the cheese ice cream was really rather delicious. I wanted to attempt something similar to this at home, so here are my Spanish fennel biscuits served with cream cheese and honey alongside some cracking fino sherry.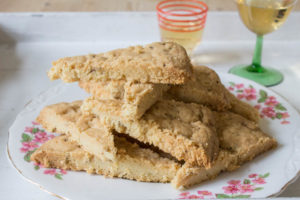 Ingredients
You will need (for 12 shortbread triangles):
180g plain flour
50g caster sugar
150g unsalted butter, soft
2 tbsp fennel seeds
To serve:
Full fat cream cheese
Honey
Sherry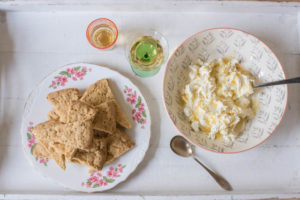 Method
Start by making the shortbread. Lightly grease a baking tray or small baking tin. Preheat your oven to 160C.
Mix all of the shortbread ingredients together in a large bowl or food processor until well combined and you have a dough.
If you're using a baking tray place the shortbread on to it and then flatten the mix out into a round, about the size of a small dinner plate. If you're using a baking tin, press the mix into the tin. Prick the dough all over with a fork.
Bake in the oven for 40-45 minutes then remove and mark into 12 portions while still hot. Remove from the tin onto a wire rack and leave to cool completely.
Spoon the cream cheese into a bowl and drizzle with honey. Dip the shortbread in or spread the cream cheese onto the shortbread and serve with well chilled fino sherry.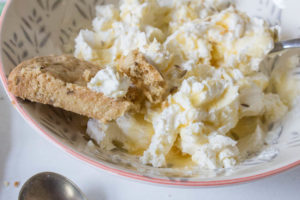 Serving the sherry chilled is the key to this dessert, fino sherry is quite dry but I think you need it to be to cut through the thick, sweet cheese and buttery shortbread. The fennel is just the perfect finishing touch to this dessert; enough to be perceptible but not so much that you feel like you're nibbling on pure aniseed. It is a dessert for sharing, everyone can grab a biscuit and have a dunk. However, if you're worried about any double-dipping (eww) you could serve the cheese in individual bowls, then, when all the crumbs have fallen into the cheese you can scoop out the remainder with a spoon and it's like you've made your own cheesecake. If you are really that concerned about double dipping then I suggest getting some new acquaintances.