It's been getting colder, the days getting shorter and the need for all things comforting increasing. I went to the butcher and managed to get hold of some local recipe sausages. Toad in the Hole would be it. With some gravy and mash. Proper British.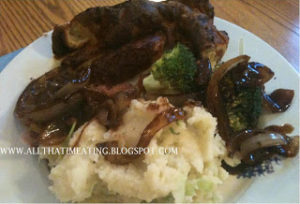 Ingredients
What you will need (for two)
Sausages of your choice
1/2 pint of milk
120g flour
3 eggs
Pinch of salt and pepper
2 onions
2 garlic cloves
90ml balsamic vinegar
Thyme
Stock cube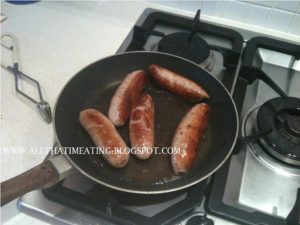 Method
I started off by frying my sausages and made the batter while they were cooking. I find the best way for Yorkshire pudding batter is to put it all in a bowl and whisk furiously. It'll all come right in the end. I was also clever enough to plan ahead, pre-heat the oven as hot as it would go and heat some oil in a dish.
When the oil was hot out of the oven, I put the sausages in and then back to the oven for a bit more cooking and to put flavour into the oil. After about 5 minutes, I poured the batter over the sausages and tucked it all back into the oven. As it is so temperamental I let it do it's thing until golden brown and everything else was ready.
To make the gravy, add the sliced onions and garlic to some butter and fry until the onions are softened. I was a bit dubious about using vinegar as I would always choose red wine but after trying it I would definitely do it again.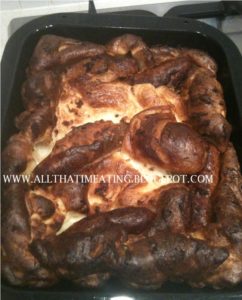 Add the vinegar and let it reduce by half. Add the thyme, salt and pepper and then crumble in the stock cube and add some water (or as I did use the water from the broccoli I was boiling). Continue to reduce until it's as thick as you like it.
I was rather proud of the fluffy mess I extracted from the oven and I served it with cabbage and chive mash, broccoli and the balsamic onion gravy.
It was just what the doctor ordered.
All That I'm Eating