It may be slightly gloomier outside than we've become accustomed to over the last few months but that doesn't mean BBQ season is over. At least not as far as I'm concerned! There's not much weather that will stop my family from cooking alfresco; indeed one memorable snowy day saw us making gravy outside as the roasting tray was too big for the hob. Stokes sent me some yummy sounding products to try which lend themselves to a BBQ really well: Ketchup, Bloody Mary Ketchup and BBQ Sauce. So it was time (but certainly not the last time this year) to fire up the coals and get cooking.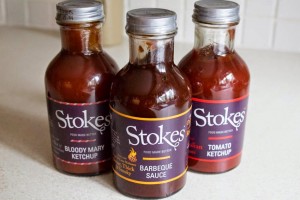 We had some fab local 'Brazilian' sausages filled with chilli, tomato and pepper with some simple chicken and onion kebabs marinated in five spice. The rest of the table was covered with salad, boiled new potatoes and buttery corn-on-the-cob. Of the three Stokes sauces I think the Ketchup was probably my favourite but the Bloody Mary and BBQ were favourites of others round the table.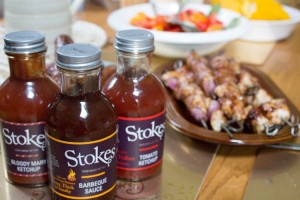 I found the Ketchup to have a nice balance of spices, a good deep red colour and a nice thick texture. I liked the different tastes in the Bloody Mary Ketchup, you could really taste the celery, and I was surprised how hot (in chilli) it was. The BBQ Sauce had a lovely level of smokiness and was a great purple/brown colour with a really thick texture. My Mum is an avid ketchup avoider but it was hard to prize the Bloody Mary bottle off her after she'd tried it! I thought all the products were good quality, tasty and certainly something I'd like to keep in my fridge.
Thank you to Stokes for the sauces. All opinions and words expressed are my own.