I love the idea of a pop up restaurant in someone's dining room, probably because I'm a nosey parker. I'd love to open up my living room to see what it would be like but my lounge/dining room is about the size of a telephone box. Laura, Anu and I started talking on Twitter and as it turns out they host pop up dinners at their house in Reading. The meal I went for was Israeli themed; having no knowledge of Israeli food I couldn't wait to find out more about it.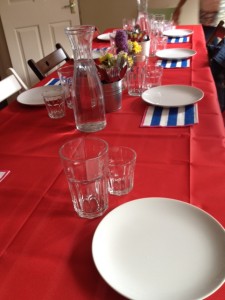 Traditional Turkish coffee with cardamom and iced Turkish delight sweets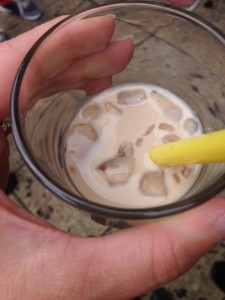 We started outside with the chilled Turkish coffee. I really liked the flavour of the coffee with the sweets and the spices and thought it was a great way to kick off the meal. It was also a good opportunity to have a chat and get to know the other diners. 

Tomato festival galette with garlicky goat's cheese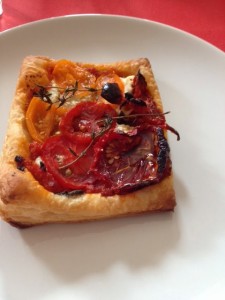 We sat down to our first course, the tomato festival galette. They had used a fantastic selection of tomatoes; some from the farmers' market and others they had brought back from travels afar. I was amazed at how intense the tomatoes were and really loved this dish.
Lavash (crackers; cumin, fennel and sesame), pistachio and feta dip, beetroot dip with za'atar, goat's cheese and hazelnuts, homemade labneh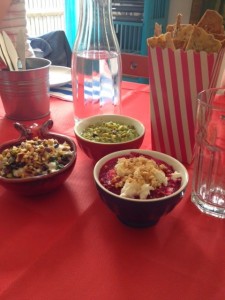 After this we had various different crackers in all sorts of shapes and they were so good. These came with three fantastic dips, I don't think I could choose a favourite, very different to your normal 'chips and dips'!
Roasted vegetables and salad with hummus and kuku sabzi (a Persian fritter with fresh herbs and walnuts)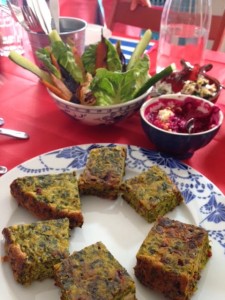 A short while later a big bowl of roasted vegetables, including heritage carrots and beetroot, and salad arrived with the best hummus I have ever tasted. The kuku sabzi was sort of like an omelette; so full of fresh herbs and flavour it was almost entirely green.

Pistachio and turkey meatballs with pomegranate molasses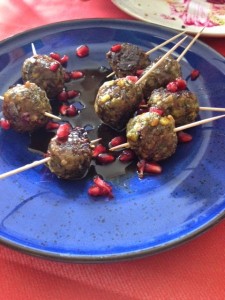 The turkey and pistachio meatballs were really good. It was the first dish that included meat but with all the flavours and different vegetables I didn't even notice its absence. They were surprisingly spicy and the pomegranate molasses gave a lovely sour sweetness.
Shakshuka; traditional Israeli breakfast (onions caramelised in cinnamon butter with mint and fried soft yolk eggs)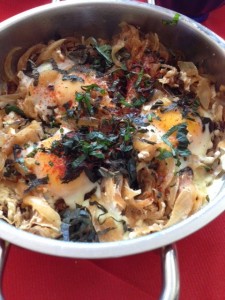 After all this was cleared away we were served the shakshuka. I was a bit sceptical of eggs and cinnamon but this was probably my favourite dish of the meal; not like anything I've ever had before.
Unfortunately at this point I had to abandon the dinner and rush off for a family emergency (all ok now) but I'm told the next courses were aubergine parcels with pepper sauce followed by three different flavours of ice cream.

I really enjoyed this meal. Laura and Anu are so enthusiastic about what they do and I loved trying so many new things. They were so generous with their food, time and stories and have such a rich background of family and countries between them it's no wonder they can cook such interesting food. They also try to use as many local ingredients as possible and use the farmers' market meaning they can showcase great local food in a new light. The cost of the meal I had (including the courses I didn't have!) is £25 per person.
You can find out more about Laura and Anu and what they do on their website.
Laura and Anu got in touch to let me know about what they were doing but I paid for the meal myself and was not asked to write a review. All opinions and words expressed are my own.