I am very pleased to say that I got highly commended in the UKBA14 for individual food and drink blog! The evening was good fun and I met some lovely fellow bloggers; it was also a great excuse to spend some time in London and see friends I haven't seen for a while. I know there are plenty of blogs about London restaurants and places to go but below are the places I ventured to 
(one Michelin restaurant, one breakfast club and one traditional pub)
 and can say are well worth a visit.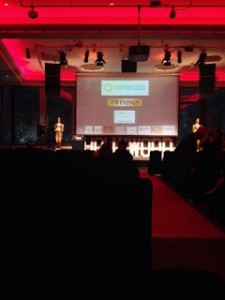 Kitchen W8 was recommended to me by Fiona who writes the fab blog London Unattached. Whenever there's a cooking show or a chef on TV I always wish I could remember where they were so I could go. I envisage a clean cut restaurant, great service and fantastic food on a not too expensive set menu. This is exactly what Kitchen W8 does. Known for being the most reasonably priced Michelin star restaurant in London they offer three courses for £23.
Due to tube problems we arrived very late for our table but the staff were very kind and seated us; I'm so pleased they did. 
We started with heritage tomato salad with sweet and sour peppers. The tomatoes were the perfect ripeness, temperature and texture, the peppers were punchy and the Kalamata olives added a lovely saltiness. I am a sucker for tomato anything and this was beautiful.
Main was breast and shoulder of lamb with heritage carrots and new season peas. It tasted as good as it looked (below). Sweet carrots and peas, the lamb was meltingly soft and there was a sort of pulled lamb crispy coated treat on the side of the plate which I could have eaten forever. We had a lovely carafe of Cabernet Sauvignon with this too.
Dessert was vanilla parfait with mango, passion fruit and lime which was just the right amount of sweetness and sharpness to finish the meal.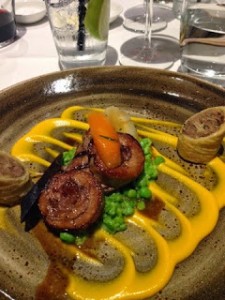 We started our next morning with a trip to The Breakfast Club in Spitalfields; a vibrant, bright way to start the day. We queued outside and although it looked long it didn't feel like we were waiting around for ages. I didn't know what to choose; the chorizo and potato with fried egg sounded so good but I can never turn down an Eggs Benedict. The ham was thick and smoky, the muffin lovely and crisp with perfectly poached eggs and smooth hollandaise sauce. I thought the hollandaise could have done with a bit more oomph but it was still very nice. I ordered a side of potatoes with this which were fried with onions and herbs; I could have happily eaten a very large bowl full of these. This is a great place to meet with friends, they have a huge selection of breakfast things on the menu and the music and atmosphere can't fail to wake you up.
And yes, the giant fridge does open as a door to a secret downstairs.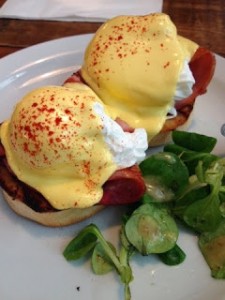 Then it was on to dinner at Ye Olde Cheshire Cheese on Fleet Street (they don't seem to have a website, only the G+ page). The pub is historically significant, very old (rebuilt in 1667) and is said to have been an old haunt of Charles Dickens! The beer comes from the Samuel Smith brewery and the menu is a very reasonably priced selection of pub classics; fish and chips, steak and ale pie etc. I had the lasagne (I can never say no to one) and I really enjoyed it. It was just how I wanted it to be; filling and slightly crisp at the edges. The pub has a great atmosphere; it's all higgledy piggledy stairs, spread across different levels and has all sorts of cubby holes to sit in.

As you can see, three very different places but all places that I hope to go to again.