I didn't realise how much rice I had been eating until I thought about the last time I ate pasta or potatoes and I can't remember when that was. I like rice as a plain side to something, a herb encrusted rice salad or as a risotto. This quick and easy rice dish (or a cheat paella) is not a paella by any means but it's a great dish to knock up after a hectic day with a nice bit of chorizo for a mid-week Spanish pick me up. Get out your flamenco.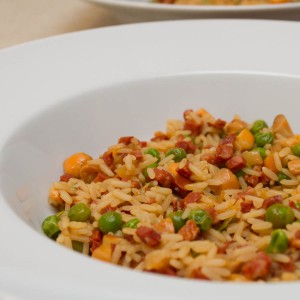 ingredients
| | |
| --- | --- |
| | |
| 225g rice (preferably easy cook) | |
| | |
| | |
| 175g cooking chorizo, diced | |
| 150g small mushrooms, quartered | |
| | |
| 900ml chicken or vegetable stock | |
| | |
| | |
| | |
| | |
Method
Add the oil to a large frying pan on a medium heat and add the onion. Fry until softened then add the chorizo and garlic and fry until the chorizo is nice a brown. Add the mushrooms and fry for a few minutes more.
Add the rice to the pan and give it all a good stir. Pour in the stock, bring everything to the boil and simmer, lid off, for around 15-20 minutes. Add the peas for the last 5 minutes of cooking. 
When it's nearly ready add a good helping of black pepper and then taste it to see if it needs salt; the chorizo and stock may have added enough salt already.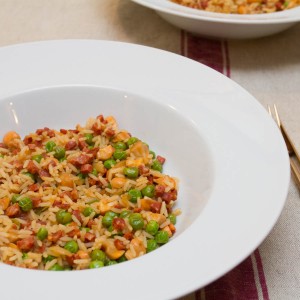 I love how comforting this is but the colours and lots of vegetables keep it vibrant and a little healthy too. I also really like how there's no stirring needed and very little washing up too. This also lends itself really well to being a vehicle to use up whatever bits you have in the cupboards and fridge. Sound too good to be true? Try it and see.