A new house and a new kitchen, a tricky transition I find. What will the oven be like; a brute or a wimp? It turns out the oven is a pretty good one although I am yet to bake a cake and discover its true character. We have managed to save enough space to have a pantry; something I've always wanted. There are a few boxes yet to be unpacked and a few more bits of furniture to be put in place but progress has been good. So, with all the unpacking, swearing, cleaning and tidying there had to be time for a beautiful breakfast.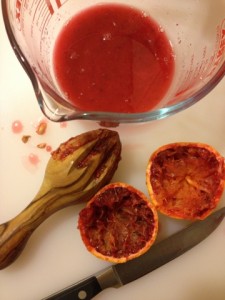 You will need (for two glasses):
One blood orange
Small bottle Champagne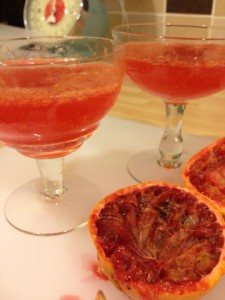 It's not a tricky one this and therefore perfect to knock up on a sleepy Sunday morning. Juice the blood orange and put half the juice into each glass then top up with Champagne; I'm sure Prosecco or sparkling white would work just as well. Who's going to care on a Sunday morning?
I was quite surprised at the colour of the finished drink; almost luminous pink. It tasted wonderfully fresh with the perfect amount of bubbles and a nice twang of booze to tickle the throat.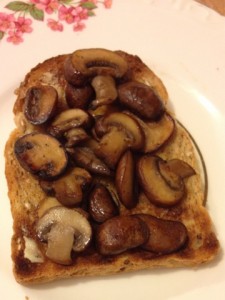 I must confess that mushrooms on toast, although simple, it one of my favourite breakfasts. If it was topped with a perfectly poached egg and some rich hollandaise sauce I couldn't be happier. It is a treat I think, and a well-deserved one, to have a breakfast you wouldn't normally have. Even better if it's eaten on a new table, in a new lounge, with new plates and cutlery. It's all very exciting so here's to many more breakfasts to come. Cheers.