The daffodils are out which means Spring has sprung. Now is the time you might be considering giving your home a Spring clean. Coincidentally, Jerusalem artichokes are in supply at the moment and can assist with your Spring cleaning; that is, if you are also planning to clean your…for want of a better word…insides. Jerusalem artichokes will never win most attractive vegetable of the year but for what they lack in manners and appearance they more than make up for in taste.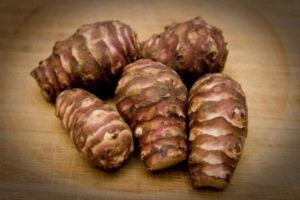 The sausages I had for this were some lovely, local chipolatas from a fantastic butcher. My butcher not only knows everything there is to know about meat, he knows a fair few things about vegetables. I heeded his advice about cooking the spring greens and they turned out brilliantly – see below.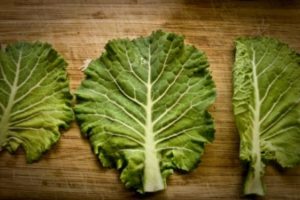 Jerusalem artichokes aren't very big and to make the most of them I needed a helping hand from the potato. In total you need 450g finely sliced and peeled artichokes and potatoes. You don't have to peel the artichokes if you give them a good scrub but I did. They have a tendency to go brown very quickly once peeled so speed is of the essence here. 
Layer the finely sliced potatoes and artichokes in a baking dish, seasoning between each layer. Mix together 120ml cream and 180ml milk and pour this over. Place in an oven at 170C for an hour and twenty minutes.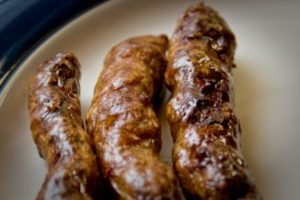 When the gratin has been in for fifty minutes, put your sausages in. I like mine with a lovely crisp skin and a little bit sticky so I oil them before they go in the oven for forty minutes on the top shelf. About five minutes before everything is ready, remove the leaves of the spring greens and the ends of the stalks. Roll the leaves up and then slice them thickly. Put them into a pan with a very small amount of water, a healthy knob of butter and a little salt and pepper. Turn the heat on and leave them for a few minutes with the lid on. They'll create their own lovely sauce.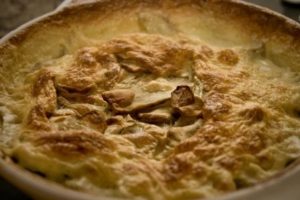 This has to be one of my favourite meals. The sausages were perfect; golden, sticky and meaty. The gratin was creamy, filling and earthy and the buttered spring greens were cleansing and crisp. A meal to make the best of seasonal vegetables. If you've not tried Jerusalem artichokes before they are brilliant; albeit only because you can amaze your friends with your new found levitation skills.