It's a bit weird here at the moment. The days are warm but the nights are surprisingly cold; light lunches but also still comfort food dinner season. The purple sprouting broccoli season is upon us and as much as I like it cooked simply, maybe with a butter sauce, I am craving carbohydrates and big warming meals at the moment. My bacon, purple sprouting and cheese pasta bake is ideal.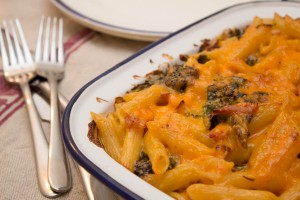 Ingredients
| | |
| --- | --- |
| You will need (for four): | |
| 300g dried pasta (fusilli, penne are ideal) | |
| 4-6 rashers smoked bacon, cut into strips | |
| 1 small head purple sprouting broccoli cut into stalks | |
| | |
| | |
| | |
| 100g red Leicester cheese | |
| | |
| | |
| | |
 Method
Get a pan of water on to boil (preferably one that has a steamer too) and when boiling add the pasta. Cook according to packet instructions and 2-3 minutes before the end of cooking time add the broccoli to the steamer on top of the pasta.
While the pasta cooks dry fry the bacon in a non-stick pan until crispy and put to one side.
In a saucepan melt the butter until lightly foaming and then stir in the flour. Cook for a minute or two then whisk in the milk bit by bit until you have a thick sauce. Add a little salt and plenty of pepper, remove from the heat and stir in most of the cheese.
Drain the pasta and put it back into the pan you cooked it in. Mix in the bacon, broccoli and sauce then put it all into a large oven proof dish.
Sprinkle over the remaining cheese then put into the oven for 20-25 minutes until the cheese has melted and turned golden brown on top.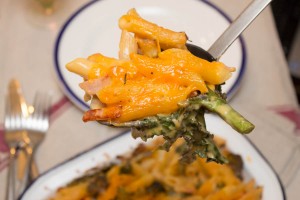 I had Red Leicester in the fridge which is why the meal looks so orange! Cutting the bacon nice and small is essential for optimum bacon distribution and plenty of black pepper in the sauce for a bit of punch. This has comfort, cheese, bacon and seasonal purple sprouting broccoli and it comes in at less than £6 for four people. What more do you need in a meal?