This was a gifted stay and meal.
Sometimes a weekend away can be so much better than a week away. I find that to get away to somewhere new and blow away those cobwebs just for a few days leaves me feeling like I've been away longer than I have. A few weekends ago we headed up to Scarborough to stay at Ox Pasture Hall Hotel. I went to Yorkshire last year but didn't get to that far so was looking forward to having a weekend in Scarborough; somewhere I'd never been before.
We left early on Saturday morning, drove up and stopped for lunch at the pub in Sancton. We didn't want to fill up too much as we were having afternoon tea when we arrived at the hotel. The hotel itself is in a sort of oasis; you're driving along wondering how on earth you can have a country house hotel almost in the town centre but then you go down another road and before you know it you're in the deepest darkest Yorkshire countryside.
We were shown to our room by the very nice lady on reception and when she opened the door to the room both our jaws just dropped. Honestly, I was not expecting the room to be that good. The lounge and bedroom both had huge wall to wall windows overlooking the gardens and some hills in the distance. The bed was massive and really comfortable. I was wondering whether they would notice if I packed up the bathroom piece by piece and tried to smuggle it home with me, the bathroom was bigger than my lounge! It also had one of those waterfall showers and that combined with lovely soft Yorkshire water was not a place I was going to leave in a hurry.
The hotel is a bit of a Tardis too. When you look at it from the car park it looks sizeable but not massive, as you work your way through it turns out that the hotel just keeps on going. Nowhere did it appear to be more than two storeys high which meant the hotel kept its homely feel. But saying that, the restaurant and bar area were spacious and not cramped.
Our afternoon tea came served next to a roaring fire; an ideal autumn Saturday afternoon. Sandwiches: egg and cress, ham and mustard, roast beef. Scones with strawberry or raspberry jam and clotted cream. Cakes: profiteroles, mini lemon meringue, chocolate and pistachio layered cake, lemon cheesecake.  The table was big enough to take the cake stand, plates, cups and tea pots without fear of knocking anything over. The egg and cress sandwiches deserve a special mention as they were brilliant and the profiteroles were divine. There was a bit of inconsistency in the quality of the coffee that came with the afternoon tea; the first pot was a rich, black colour with crema but the second pot was all watery and not as good. I think it depended who made it.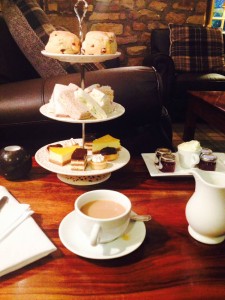 After the afternoon tea, bellies very full, we headed to Scarborough to get a feel for the town to see if we should go back on the Sunday to look around. We went to the North Bay and almost got knocked off the path by a rogue wave (if you've been you'll know exactly where I mean, somehow we didn't see any of the signs) and got the feeling that this was somewhere that we should really pay a visit to in the daytime.
I had seen the menu for the restaurant earlier on so I was really looking forward to dinner. Before the meal we had a drink in the bar but there wasn't anywhere to really sit so we ended up in the lounge with a few other people, again near the fire which is always a good place to start. The thing I really liked about the restaurant was that the tables were far enough apart that you couldn't overhear anyone else's conversation but close enough that it had a nice atmosphere.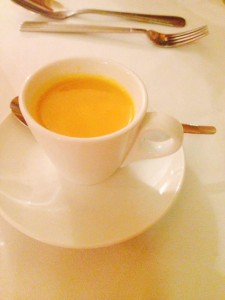 We started with carrot soup for an amuse bouche which was very nice. We ordered some drinks and they took a little while to arrive and we weren't offered the wine list at all which was a shame. By the time I realised we were pretty much at pudding so there didn't seem much point in asking for it. The bread was really good; I tried the cheese and chive and the fruit and nut.
I had the Ham, Egg and Peas (£8.75) to start which came with a crispy quail's egg and peas in all sorts of shapes and sizes. I really liked how the dish was presented and thought the flavours were really nice together, especially the pickled vegetables which lifted the dish and gave it freshness.
The OH had Chicken Roulade with Spiced Apple Chutney (£7.50) which I thought looked great when it came to the table. I liked the flavour of this, although I only had a nibble, as it was light and a good way to start the meal.
I chose the Crispy Tartlet filled with Smoked Haddock, Leek and Peas with Potato Gnocchi (£15.95) for my main which was just how I imagined it would be. A light smoky flavour throughout, sweet peas to lift it and a rich creaminess all topped off by lovely fried (and not at all oily) gnocchi.
The OH tried the Mediterranean Vegetable Wellington with Spinach, Green Beans and Tomato Sauce (£13.50) which looked rustic and full of flavour. Although it was mostly vegetables I was informed that it was surprisingly filling and very tasty.
We needed a quick break before pudding came along and because we couldn't choose we went for the selection of desserts to share (£12.95). I thought it was a good selection, it was a shame that we had already had some of them with our afternoon tea, and the coconut panacotta with passion fruit sorbet was a great combination.
The thing I really noticed about the menu which I don't see very often any more was the amount of choice you are given. Instead of just three or four choices there were at least seven or eight across all courses to choose from which I think is great. I hate going somewhere where I'm forced to choose between a small selection of things I'm not really fussed about and much prefer to have a wider choice. A bit of a pain for the kitchen but a great thing for the customers.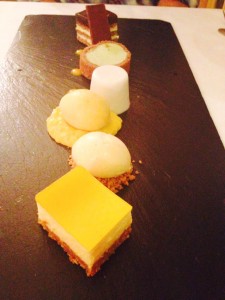 After a good night's sleep we got up and headed to the restaurant for breakfast. We had cereals, fruit, juice, tea and coffee to eat while we waited for our cooked breakfast to come. You order what you would like from the menu (bacon, sausage, tomato etc.) rather than having a buffet style which makes it a bit more special and makes breakfast last a bit longer which I liked. The whole breakfast was good but the scrambled eggs deserve a special mention for being exceptional.
The next morning we headed to Scarborough for a look around. I couldn't believe the grandness and size of some of the old buildings there. It had a real stepping back in time feel about it which I loved. We were so lucky with the weather and managed to get to both the North and South beaches of the town.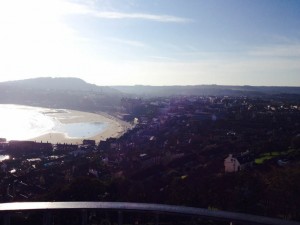 The picture above was taken from the castle which is a great place to go and see for miles and miles. I wish we had visited on the Saturday rather than the Sunday as a few more of the independent shops would have been open. If I am ever up that way again I would really like to go back, especially in the summer to make the most of the huge sandy beach.
Dinner, bed and breakfast was paid for by Ox Pasture Hall Hotel. Thank you to them. All opinions expressed and words are my own.