I had heard rumours that Hay-on-Wye is a book lover's paradise. In case you weren't aware I love books but could probably be accused of having a few too many. Hay-on-Wye was somewhere I'd always fancied going, just for a nose around mind you, to see what it was all about. We weren't too far away when we were in Wales so went for the day. It's a real classic English town, picturesque and with a huge array of antique emporiums and book shops. And Tomatitos at Hay-on-Wye is a really good tapas restaurant.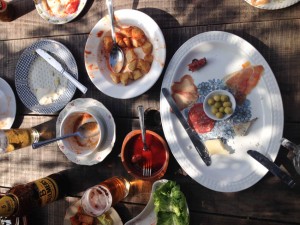 We wandered around the town for a little while looking for somewhere to have lunch and stumbled on a place called Tomatitos; a quick look at the menu told us it was tapas which is always a good thing as far as I'm concerned. I can try all sorts of different things; a bit of this, a bit of that and everyone can dig in. We sat outside, the sun was shining, the food was good and we could have (I'm not joking) easily been in Spain.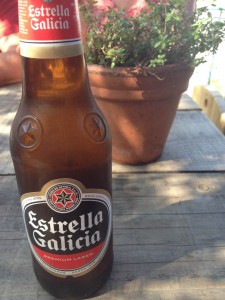 When I was in Madrid earlier in the year it was very difficult to find the above Estrella Galicia but at Tomatitos there was plenty!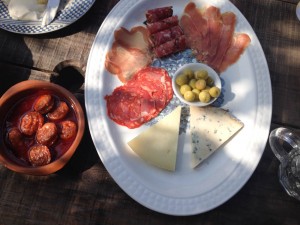 Between five of us we shared:
Chorizo cooked in cider – the chorizo was deliciously spicy and the slightly sweet cider was so good with this. There was also plenty of oil in the dish to mop up with bread.
Sharing plate – different cheeses (which you could choose, we had Manchego and a local blue cheese), cured meats and lovely little juicy olives.
Tortilla – this one was really thick and the potatoes were cubed rather than sliced which I really liked, the garlic mayonnaise that came with it was great to dip all sorts of stuff in!
Patatas bravas – I really liked the tomato sauce on these, really herby and full of flavour, and the portion was really generous.
Pork and herb meatballs – these were a good size so we had a few to share round and because they weren't too big or small they were still juicy in the middle. They had the same tomato sauce as on the patatas bravas so there was extra for dunking the bread in.
Tomato and garlic salad – normally I would expect to see tomato and onion salad but the garlic made a nice change and the plum tomatoes were lovely and ripe.
It was fantastic to sit outside and have a nibble on what was brought to the table between conversations. Sat under the shade of an apple tree in the garden we could have been anywhere. What a find!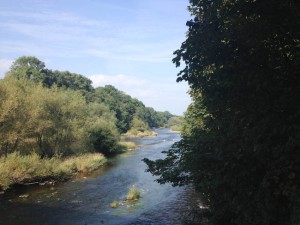 After lunch we went to see the river Wye (it would have been rude not to) and sat down along the bank. I found Hay-on-Wye to be a really relaxed, laid back kind of place. To be fair we did go on a Tuesday and I imagine a Saturday tells a somewhat busier story but if I'm passing that way again I'd like to stop for another wander. There were so many tea shops, pubs and cafes to choose from you'd be hard pushed to eat in all of them if you stayed for a week.