This was a gifted meal.
Every town has a hidden gem I'm sure of it. The only problem with hidden gems is that some people don't like to tell you about them; the secret is best kept to themselves. Well, sorry Southend but I'm going to tell everyone about yours: The Pipe of Port. Just off the main high street, with blackboards outside to announce its presence this is a restaurant that is worth a visit. Even if you live in Lerwick.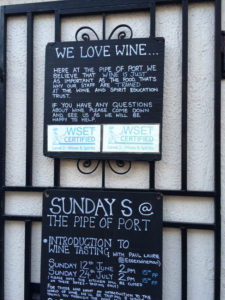 You descend into The Pipe of Port and land in an underground cellar filled with subtle light bulbs, candles, places to sit, menus to look at and absolutely huge barrels of port. This place specialises in two things: wine and pies. But don't be fooled, they have all the independent beers, ciders and other soft drinks you could ever need. They have a huge, and very interesting, selection of wines by the glass and many, many more by the bottle. They also have some very exclusive wines available by the bottle; what a fantastic idea to treat yourself.
I started with a wonderful glass of German Pinot Blanc while the OH got acquainted with a beer (of which I have completely forgotten the name!). We perused the menu and of course, we had to try a pie. It was busy on the Saturday night when we went but it wasn't overly noisy because of how it was laid out and the staff were great. The staff at the bar really know their stuff, I think you could talk to them about wine, beer or port for hours and they would answer any of your questions with enthusiasm. You know you're onto a good thing when the staff working there are really passionate about what they do.
I was so pleased to see that they had the delicious Harry Brampton's alcoholic iced tea so I enjoyed one of those while nibbling on the bread (warm, always important) and olives (£2.50).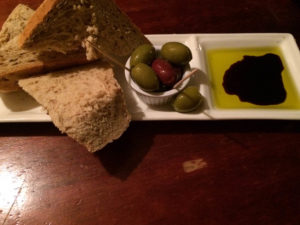 We couldn't decide which pie to have so we ended up sharing two between us. One Chicken and Chestnut (£11.50) and one Steak and Stilton (£12) each with mashed potato which was £1.50 with each pie; you could also have dauphinoise for the same price or a jacket potato was no extra charge. I was really surprised at the chicken and chestnut as I've always thought of chestnuts as a rather festive ingredient but when it works this well why save it just for December? The pastry on both pies was different; shortcrust on the chicken and puff on the steak. The steak and Stilton pie was so well balanced, just enough Stilton without being too much.
The pies were huge and were absolutely stuffed with filling, it was really generous. The mash was smooth and buttery and perfect on the side. A special mention has to go to the pea casserole (£2.60); it looks rather plain and simple, like something your Granny used to make, but it was so good. If your Granny has made this for you then you are very lucky. It was a smooth, béchamel style sauce with plenty of pepper and a few onions filled with sweet, vibrant peas. The ultimate pie accompaniment.
I had a Bulgarian Pinot Noir and the OH accompanied his with a Rioja. Both very good and both worked with the pies well; we did plenty of testing just to make sure.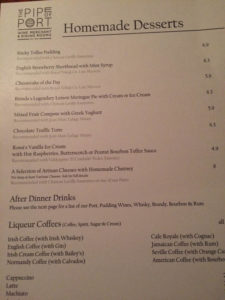 At this point we were rather full but we had seen some of the desserts at other tables so we had a time out and then decided that it would be silly not to try a pudding as we were there. I had the shortbread, English strawberries and mint syrup (£6.30) which was so summery and actually quite light; just enough to finish with. The OH had been checking out the cheese board and was most pleased with his five cheeses (he somehow ended up with six!), homemade chutney and accompaniments (£8). We had seen the two huge barrels of port when we walked in so he had a small glass of that to enjoy at the same time.
We left feeling happy, full and somewhat jealous that we don't have access to pies, pea casserole and this selection of wine nearer home. The leisurely stroll along the seafront back to the hotel was just what we needed after our meal. If you're in or around Southend it might interest you to know that The Pipe of Port often have themed wine tasting evenings or they open a vintage bottle for everyone to have a glass; you lucky people.
This meal was paid for by The Pipe Of Port. Thank you to them. All opinions expressed and words are my own.