Purple sprouting broccoli has to be one of my favourite vegetables. Its arrival on my plate with the warmer weather tells me that in a few weeks time I will be enjoying asparagus. It's delicate appearance and slightly sweet taste is brilliant with so many foods. I like mine nice and simple; with copious amounts of garlic infused oil and coronary shattering piles of Parmesan.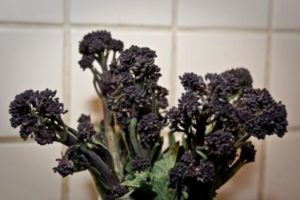 | | |
| --- | --- |
| | |
| 300g purple sprouting broccoli | |
| 350g fresh pasta (fusilli preferably) | |
| 4 tbsp extra virgin olive oil | |
| | |
| | |
| 40g Parmesan (or veggie alternative) | |
| | |
| | |
Warm up the olive oil gently on the hob. Slice the garlic cloves thinly and add to the oil; you don't want to fry them they are there to flavour the oil, so keep it on a low heat.
Using fresh pasta for this makes it so quick. Get some water on to boil; a pan that has a steamer preferably.
Chop the ends off the broccoli and add to the steamer for two or three minutes. 
Put the pasta into the water and boil for a minute or two.
When the pasta and broccoli are done, drain the pasta and leave to one side and add the broccoli to the oil and garlic with a little salt and pepper. 
Get the Parmesan ready and dish up the pasta. Arrange the broccoli on the pasta before pouring the garlicky oil over the top and smothering in Parmesan.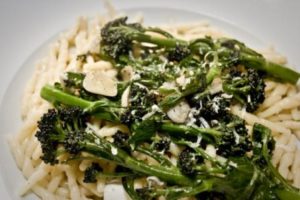 This is so quick and simple it's perfect for a midweek meal. The pasta fills you up like it always does and the garlic adds a lovely kick. The broccoli tastes incredibly sweet against the salty Parmesan. A nice bit of salmon would be lovely stirred through this. 
It can all become a bit of a brassica overload at this time of year so it's nice to have a bit of green on your plate that's not too closely related to the cabbage, well, almost.