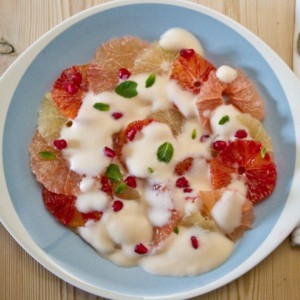 January is the month in which we all need a bit of sunshine. When the clouds fail to part sometimes you need to rely on a plateful of bright beams to keep you going. The dark mornings and evenings are easily punctuated by citrus fruits; particularly the blood orange. If anything is going to brighten a chilly evening it's a platter of thinly sliced citrus fruits covered in a decadent Champagne sabayon with hints of mint and pomegranate.  
Ingredients
You will need (for two):

1 blood orange
1 pink grapefruit
1 white grapefruit
Pomegranate seeds
Mint leaves
3 egg yolks
3 tbsp caster sugar
150ml Champagne
Method
Start by peeling and slicing the citrus fruits as thinly as possible. Put to one side.
To make the sabayon put a bowl over a pan of lightly simmering water taking care that the bowl and water do not touch. Whisk together the eggs yolks and sugar in the bowl until combined and then whisk in the Champagne. Keep whisking for around 10 minutes until it is completely frothy and doubled in size. 
Serve the slices of fruit on a big plate, spoon over the sabayon and top with some pomegranate seeds and mint leaves.  read more