If you've been reading my blog for a little while you'll know I'm a fan of recipe boxes. To come home and find everything you need ready to cook a meal, all pre-weighed and everything, is music to my ears for a busy week. It's meal planning but the hard work has been done for you. Riverford have started to do some of their recipe boxes with guest chefs and this month it's Sarah Raven. When they asked me if I would like to try one out I was looking forward to its arrival, the recipes sounded delicious.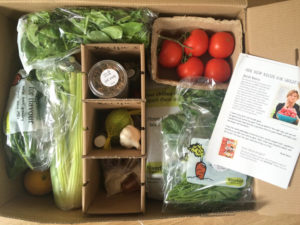 Earlier this year I posted about all the recipe boxes that I have tried; what I liked and what I thought could be improved and compared price and quality. The Riverford box I had for the comparison was an older one than they have now and things have changed a bit since then. I am pleased to say they still have their super handy 'middle bit' which you can take straight out of the box, pop on the worktop and grab ingredients from for every meal and the quality of ingredients is excellent as always.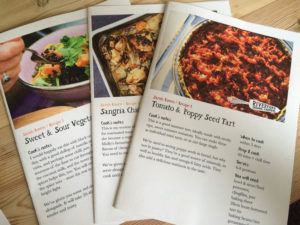 I commented before that it would have been good if the Riverford recipes provided the nutrition information on them and I'm pleased to confirm that they do now! The quantity of ingredients was very generous; I have a fennel bulb, an onion and most of a garlic head left along with a few herbs so I'm pleased about that. All the recipes are ones that I wouldn't normally make so it was a really nice change to try them; next week's box looks pretty good too! All the recipes are from Sarah Raven's new cookbook.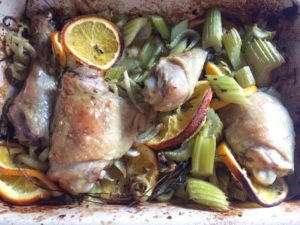 Sangria Chicken was the first recipe we tried. A tray bake with white wine, oranges, celery, fennel, thyme, lemon topped with chicken drumsticks and thighs. You marinate everything the night before and then pop straight into the oven the next day. Served with some red rice and salad this was super easy and a really summery dish.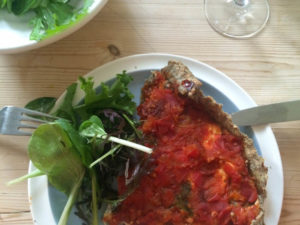 The next recipe was Tomato and Poppy Seed Tart. The poppy seeds get added to the pastry which I haven't tried before. This was maybe a bit involved for a weeknight meal, it's more of a weekend cooking dish this one, but it was really good. Pastry, goat's cheese and fresh tomato filling served up with salad. I'd like to make this again!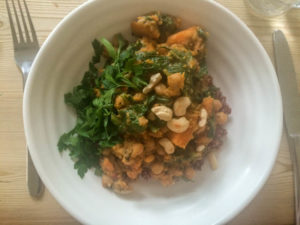 The final dish was a Sweet and Sour Vegetable Curry. The sweet coming from sweet potato and the sour coming from the lime. This was really filling and felt really humble; a few spices and vegetables but so fresh and with the added chick peas and red rice it felt super healthy.
The Sarah Raven recipe box is available for the next few weeks at £36.95 including delivery. If you want to have a try of the exact same recipe that I did, they are included in the box from 4th July.
Thank you to Riverford for the recipe box. All opinions expressed and words are my own.