This was a gifted meal.
It's been all go in London for me this month; I also managed to squeeze in a dinner at
Matsuri St James
. This was a meal of firsts for me: sushi, teppanyaki, sake and plum wine were all new to me and what a great way to be introduced to them. (I had tried sushi before but I don't really think it counts as it came in a plastic tray from a well-known high street chain). As restaurant meals go this has to be one of the most fun places I've been to. I loved the buzz (about the place and from the other bloggers and writers there), the drama (there was flaming ice cream) and the venue. Oh, and the food.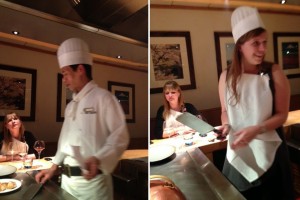 Teppanyaki is something I've always wanted to try; I love the idea and the theatre of watching your meal get cooked in front of you. And yes, that's me having a go at cooking the black cod for the other guys on our table; I hoped I didn't ruin it but everyone was very polite either way! Matsuri St James is a joint venture with Kikkoman, the soy sauce company, and they have been running in London for 20 years.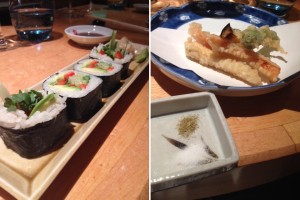 You might have noticed a lack of fish and shellfish recipes on my blog. The reason being I am intolerant to shellfish and the OH isn't a fan of fish. While everyone else tucked in to their sushi, it looked lovely, we had the above vegetable sushi with soy sauce to dip. I liked that they looked like mini gardens surrounded by rice and they tasted honest, clean and fresh.
We then had tempura vegetables which were light and crisp. I loved the salt and spices that came with it to dip in. I was enjoying a fresh and slightly syrupy chilled sake (Houraisen – WA, Aichi Prefecture, Junmai Ginjo) with this course.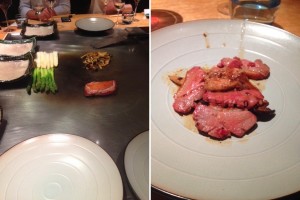 While the other guys were tucking into their black cod our chef started to prepare some sumptuous duck breast with duck liver, mushrooms and asparagus. The duck was perfectly cooked and juicy, the liver was meltingly soft and so punchy, the mushrooms were earthy and savoury and it was a treat to try white asparagus which was sweet and crunchy. I loved the flavours of this and I could have eaten it all evening. This was served with a 2011 Chablis which I really liked.

Luckily I didn't fill up on the previous courses as our main was a gargantuan piece of Galacian beef; it looked brilliant before it was cooked and irresistible when it was ready to eat. The fat on the beef was so yellow. The steak was fried on one side, flipped over and covered with salt (on the cooked side) and then left to brown on the other side. The salt was scraped off, the fat was removed and the steak sliced up. The fat was then sliced and served with the beef and there was nothing else needed; it tasted fantastic. The red wine with this course (Etna Red, I Vigneri Salvo Foti, 2011) was really good.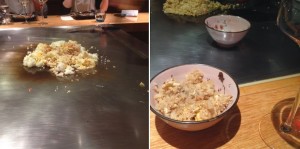 The rice was cooked on the hot plate after the beef was removed. It was a humble mix of rice, eggs and tiny chopped garlic and vegetables. I like rice, I love egg fried rice, and this was delicious. Simple, yes, but you can't improve on perfection.
I was looking forward to pudding as I don't know anything at all about Japanese desserts. We had pancakes with pineapple and ice cream (which was flambéed). It was nice, the pineapple being the best bit with nice chargrilled edges but it would have been nice to try something a bit different. The plum wine we had with this was beautiful, very strong, and I liked that it was unfiltered so there were bits of plum in the glass and it was cloudy.
I really enjoyed this meal: the food was great, the atmosphere was fun and the drinks that were chosen were interesting too. Matsuri do a range of menus, starting with the Matsuri course menu at £65 pp for five courses.
This meal was paid for by Matsuri. Thank you to them. All opinions expressed and words are my own.