I find breakfast is sometimes a bit of an inspirational dead end. I might want toast but then if I'm having a sandwich for lunch I think it's too much bread, I like cereal but I begrudge paying the price for a box that lasts less than two weeks, fruit doesn't fill me up enough and I don't have enough time to do anything more involved. I could get up earlier and make something but I'll be honest; I stay asleep until the last possible moment. I always make sure to have breakfast though. I need something quick, simple, filling and tasty; cereal bars, muesli or granola with yoghurt keeps me full and it's great to put together when still half asleep in the morning.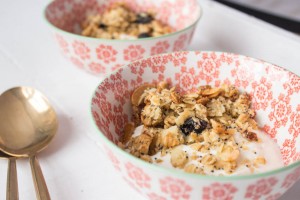 Rachel's Organic sent me some of their new Greek style lemon yoghurt which I have been enjoying for breakfast. I wasn't sure how sharp lemon would work with tangy yoghurt but it was very nice and zesty, the yoghurt was lovely and creamy too. My last blog post was for some delicious blueberry, almond and poppy seed cereal bars and they worked a treat with the lemon yoghurt; I think the lemon and blueberries worked particularly well together. I don't tend to be fully functioning until about half an hour after I wake up so anything that tastes nice that doesn't involve too much effort on my part is good for me!
Thank you to Rachel's Organic for the yoghurt. All opinions and words expressed are my own.