As you know I quite like tea. As part of this tea appreciation I have become a fan of the more unusual teas and seek to try as many different types as I can. I was invited to spend some time with Twinings and meet Mr Stephen Twining himself. Their shop on The Strand is long and thin and you could spend a long time smelling the different teas on the shelves. We were sat at the back of the shop; it was great to see Fiona again (from the blog London Unattached) and to meet Choclette (from the Chocolate Log blog) and we settled ourselves in to sample and learn more about Twinings.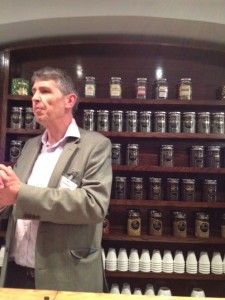 I thought I knew a bit (at least) about Twinings but I learnt so much! They have been operating out of the same shop in London since they started in 1706 and have a huge variety of tea available; all sorts of flavours and blends. It takes five years to become a master tea blender and, once qualified, you get a special teaspoon engraved with your name on (I really want one of those!). I also didn't know that Twinings originally created Earl Grey; that's why theirs is called The Earl Grey.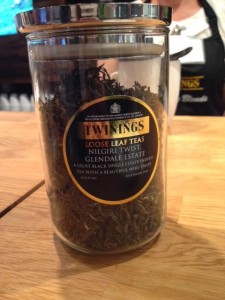 It was interesting to learn how complex it is to blend teas together for a consistent flavour and I didn't realise how involved the Twinings family still are. While we were all having a chat I was given the rare Nigiri Twist tea from the Glendale Estate to try; it was full flavoured but light at the same time, I really liked it. I know that water quality, temperature and steeping time are so important when it comes to making the perfect brew and I loved the glass teapots (below) that were used to brew up four different teas for us to try.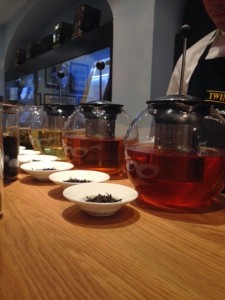 The difference in colour of the teas was apparent and it was a great way to show the huge range of flavours across the tea spectrum. Out of the four that we tried my favourite was the Oolong. It's also worth noting that the loose tea leaves themselves had different shapes as well as different colours and aromas; something I've not really noticed much before.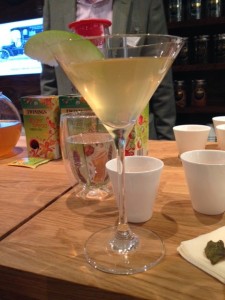 We then tried their three new infused green teas: salted caramel, caramelised apple and gingerbread. I like green tea but (other than jasmine) hadn't tried flavoured green tea before. The caramelised apple was my favourite; good job too as this flavour was made up in to a caramelised apple green tea martini. Delicious. I really enjoyed my trip to Twinings and I now have one of those glass teapots for making tea perfectly every time at home. I'm looking forward to making my own green tea martini too!
Thanks to Twinings for the invitation and samples. All opinions and words expressed are my own.