I discovered a liking for beer on a trip to Bruges last year. Hungerford is an awful lot closer to me than Bruges and luckily for me the John O Gaunt have a selection of Belgian beers on offer. I have been over there a few times and it's always busy; I have learnt that booking is essential. They offer a range of meals; some pub classics, some light meals and snacks and all reasonably priced. If you click to open the picture below you'll read the bottom bit of their menu which I thought was quite amusing!
I started with the Scotch egg. I have to say I'm used to ordering a Scotch egg and it arriving hot with a liquid yolk in the middle so I was a bit disappointed to have this one arrive cold. You could tell from the consistency of the yolk that it would have been perfect if served hot. Having said that I did like the sage and onion flavour of the pork and the homemade brown sauce was very nice. There was also a big bowl of courgette and Stilton soup which I thought was an unusual combination as courgettes don't have much flavour but it was generous and tasty.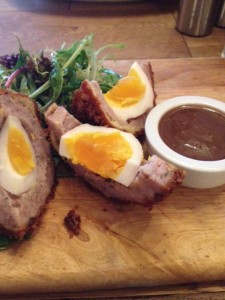 I wanted to try the pulled pork bap for my main but they had none left so I opted for gammon, egg and chips (a bit of a theme with my starter and main!). There's not too much to say about my main; it was gammon, very well cooked organic eggs and excellent chips. The other main was a very generous Ploughman's with plenty of cheese and ham. I enjoyed this meal because you got exactly what the menu said; simple and unfussy. 
It would have been nice to have a pudding but I was so full I couldn't fit one in! The price for two starters, two mains, two soft drinks and a Kwak (my favourite Belgian beer) was £44.20. The menu has lots of options; mostly pub classics, quite a few fish options and all reasonably priced. It would be nice to see a few more vegetarian options or something a bit different or daring but I like how uncomplicated it is. It's a nice place to go and sit, of course there's plenty of beers available, and I'm pleased that it's always busy.