This was a gifted meal.
A leisurely lunch is a very enjoyable thing. Relaxing with some food and wine watching the world go by is something that I like to do. The experience is vastly improved if you happen to be on staycation and can sit there without a care in the world. That's what I did when I went to Malmaison for lunch; I organised it with them for a time when I knew I could sit there without any time pressure.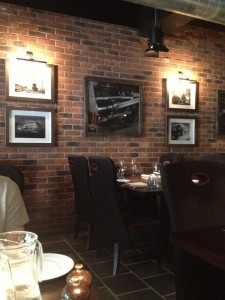 Malmaison has a modern feel; exposed brickwork, black and white pictures and spot lights mean that the interior overall is dark but the light at your table is quite bright. Much better than when you go somewhere that is dark everywhere and you put your fork into your dining partner's dinner, or worse, your eye. 
We started with mixed olives and baguette and pea hummus. I liked the mixture of olives that we had as there were different textures and flavours and there weren't too many of them either; sometimes too many olives can be a brine overload. The baguette was crisp and warm and the hummus had a nice chilli kick to it; I would have liked it to have a bit of a stronger pea flavour.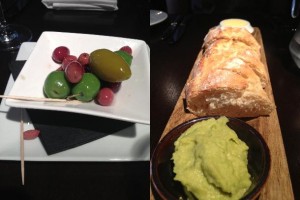 We followed this up with the fun sounding chicken lollipops: satay, tandoori, BBQ, Cajun and jerk. I thought they were presented well as it made you want to grab one and dive straight in. Some of the flavours were a bit difficult to identify; tandoori and BBQ were first and then after that I 
wasn't
 quite sure which one was which! I thought they needed a bit more of the marinade. They were surprisingly easy to divide and share between two.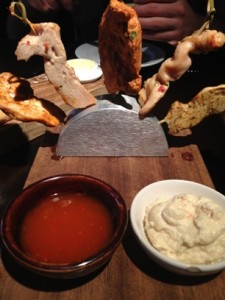 I have spoken before about food envy and being careful with what I order to ensure I don't end up regretting my choice. I wanted to go for something light as I am on a bit of a healthy eating thing at the moment (not sure who I'm kidding) and wanted to order something I wouldn't normally choose. I opted for the hot smoked salmon, heritage beetroot, watercress and horseradish crème fraîche salad. The portion was really generous, there was plenty of salmon and the sweet beetroot worked nicely with the smoky salmon and punchy horseradish and watercress.
The OH went for the classic burger with Gruyère and bacon which looked very tempting; I stole a few chips and then wished I had some of my own! The salad was pretty filling thanks to all that salmon so I was glad I tried something I wouldn't normally and felt much slimmer than I would have done otherwise!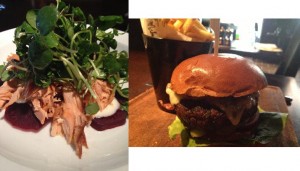 Admittedly some, or all, of the reason I wanted a virtuous main course would mean a lack of guilt when I ordered a pudding. There was plenty to choose from, I fancied a bit of all of them, but I decided on the Valharona chocolate pudding with mint choc chip ice cream. It was basically cake at the edges then a liquid-puddle-of-melted-chocolate-in-the-middle pot of indulgence. A chocolate fondant but much bigger, I ate every last bit of it. The mint choc chip ice cream that came with it was really good; the mint flavour had a just-picked freshness to it which cut through the chocolate nicely. The OH had hazelnut parfait which I tried a bit of; cold puddings aren't my favourite thing but I thought it looked nice and neat and it tasted quite light.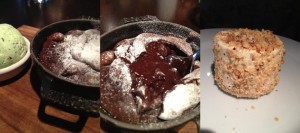 Overall I liked the food, the staff were attentive without being over bearing and the atmosphere was relaxed. The mint choc chip ice cream was some of the best I've ever had (and it's my favourite flavour so I've eaten a fair few) and I thought the portions were generous.
This meal was paid for by Malmaison. All opinions expressed and words are my own.