Growing my own fruit and veg is something I immensely enjoy. I have to admit I have rather a 'chuck it in and let it get on with itself' attitude but it's served me very well in the past. I don't let myself get bogged down in specific seed insertion depths, lopping off this and tying up that. I figure that if something wants to grow then it will and I only help it along with a bit of watering, weeding and the occasional addition of manure.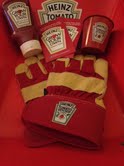 When Heinz got in touch and asked if I would be interested in receiving a kit to get me growing my own tomatoes I couldn't refuse! Spring blossom on my fruit trees, the first unfurl of my rhubarb and the wonderful smell of tomato leaves are my favourite things in the garden. As well as the sound of birds, the seed caught on the edge of the first courgette leaf and the unavoidable acquisition of a suntan. Basically, I wholeheartedly encourage you to get growing!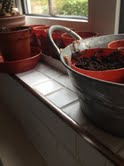 I've planted twelve seeds inside on a nice sunny windowsill and will be planting a few outside under cloches later this week. I've never grown tomatoes from seed before so I am looking forward to seeing the results. The warm, sunny weather we have had recently will have set them off to a good start so I can't wait until they're ready to pick.
Thank you to Heinz for the goodies and seeds. Disclaimer: there is an incentive to post about the Heniz GYO project as I will receive a hamper if I post three times this year.