I love this time of year; everything is happening and alive. Things are changing colour or from flower to fruit and there's nothing like watching that happen to something you've spent time nurturing. I have a few fruit trees which are easy because other than a quick drink in a particularly dry spell I just leave them to their own devices. It's only the birds and bugs I now have to find a way to deter from my booty.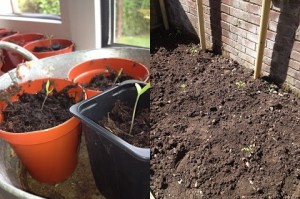 The above left picture shows my Heinz tomato seeds after about two weeks inside on a sunny windowsill. The right picture (I'm not sure if they're that visible) are the happy seven plants that went in last week. They're in a south facing veg patch which has a brick wall behind to reflect some of the heat; I've found this is the best patch for tomatoes. There's a few more plants coming along indoors which were on a less sunny window sill so I'll hopefully be planting them out soon.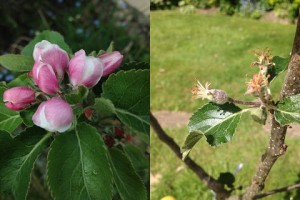 The picture above is a Lord Lambourn apple tree which we planted in November. It was only two years old when my Dad and I planted it so I couldn't believe the amount of blossom and now subsequent fruit that is growing on the thin branches. This one's an eater with red and yellow striped skin so I'm looking forward to trying it.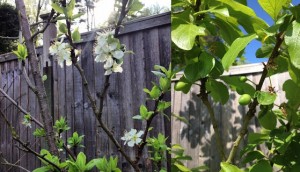 Last year I managed to eat one golden gage. The tree (bless it) produced about seven fruits but most went mouldy and fell off before I got a chance to taste them. The one I did have I cut into four to share with my parents and my OH so I didn't even really have one. This year however the tree is covered with little green gems just waiting to ripen into lovely golden fruits. I can't wait!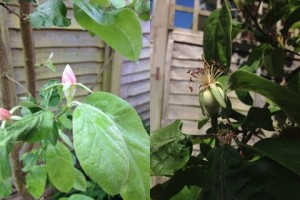 After much question asking and deliberating the jury was out as to whether the quince was going to blossom this year. It seemed I blinked and the next thing I know the tree is covered in what looked like pink Mr Whippy (left picture) style flowers all over it. I have never had one fruit from this tree (I've had it three years now) but I am pleased to announce that it is positively festooned all over with fluffy little quinces. I'm going to be in Membrillo up to my eyeballs.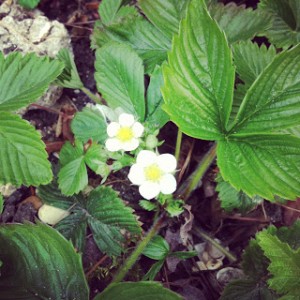 There are loads of these little wild strawberry plants dotted about the garden. Most of the wildlife seems to get them before me but I do manage to sneak in a couple every year. I need to keep my eyes peeled for them.
There's plenty going on and I'm excited about the things that are on their way. I'm looking forward to getting creative with all my lovely homegrown produce.
The Heinz Facebook page is still up for us to post about our growing adventures but there are no more seeds available.
Disclaimer: there is an incentive to post about the Heniz GYO project as I will receive a hamper if I post three times this year.