As an avid tea drinker I like to think I've drunk my way through a wide range of teas on offer. One thing that is new to me are the teas which are in fact not tea at all. Called tea, I assume, because they come in a bag and you use hot water to extract the flavour. Higher Living sent me two of their herbal teas to try: Sweet Chai and Ginger Kick.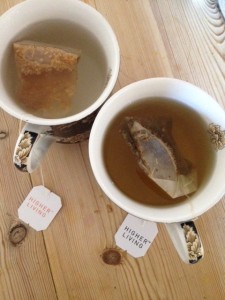 I liked the look of the tea bags; I'm a sucker for teabags with the dangly things and you could smell both of them just when you opened the box. The Sweet Chai was an interesting mix of spices; predominantly aniseed flavour. I reckon this would perk you up if you had a cold. The Ginger Kick made a surprisingly dark cup of tea considering the colour of the contents in the bag. The ginger one wasn't for me so much as I'm not a fan of ginger but it actually wasn't too harshly gingery.
I like that they are organic and I am enjoying taking them to work (sharing the ginger one around!) as it's nice to drink something a bit different.
Thank you to Higher Living for the samples. All opinions and words expressed are my own.