Praises are regularly sung about all the fantastic ingredients you can get from farmers' markets. Fruit, vegetables, meat, cheese are all wonderful artisan ingredients that are picked up and turned into a glorious meal at home. What about those things which you don't use in another meal; the ones that are ready to eat? 
Here are some of my farmers' market heroes, the stalls and people you turn to to cheer up your stomach and put a big smile on your face.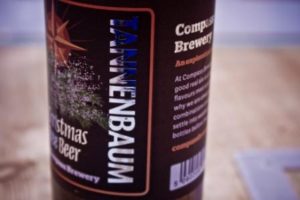 Beer is an exception I suppose as it can be used as an ingredient or enjoyed on its own. This beer from Compass Brewery is a rather festive beverage; it's balanced with Oxfordshire spruce needles. Where else could you get something that local and forever varying?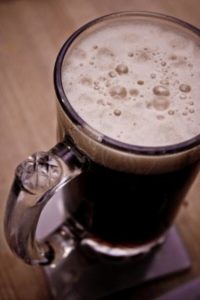 I'm not one for beer usually but I did enjoy a smidgen of this one. I can certainly vouch for the fruit wines available at the farmers' market. I used some Cassis to poach some quinces a little while ago and it was divine.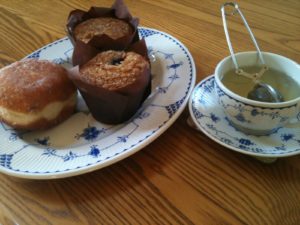 Cakes, pastries, muffins, sweets and fudge are the things bought to be enjoyed as they are. My particular favourite are the doughnuts from Pippins some of which have won taste awards. They are made fresh every day and the flavours change with the seasons. Ever so slightly crisp on the outside, covered in sugar and with generous gooey innards. Exquisite. These are my guilty pleasure.
I recently found some wonderful little treats called tuffets from Saucy Puds. Above you can see a wonderfully rich blackberry and apple tuffet and a rhubarb and hazelnut tuffet. Both were divine; crunchy on top, cakey in the middle and sticky at the bottom. It's like crumble meets cake.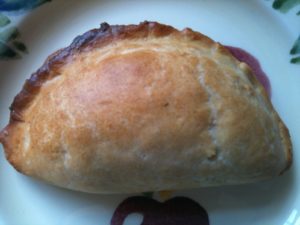 The above pasty was about four inches long and filled with goat's cheese and watercress. A lovely combination of flavours and when it's only one pound, you can't complain. Perfect for when you can't be bothered.
I use so many ingredients from the farmers' market to create dishes at home but it's the above people who can make my life easier and make my olfactory centre full of glee. Here's to them.