A few weeks ago I set off in my little car to go somewhere I have always wanted to go: Le Manoir aux Quat'Saisons. Having watched Raymond Blanc on the television for years, tried my hand at a few of his recipes and known that Le Manoir isn't actually that far away from me, I was really looking forward to going. I was invited to take part in a cookery class with four other lovely bloggers to try out the new Kenwood mixer and make a couple of different recipes. We had a few little snacks to start the evening: goat's cheese with manuka honey, beef tartare with horseradish, smoked salmon with yuzu and vegetable curry balls with smoked mayonnaise. They were absolutely delicious. But before the cooking began we had a tour of the gardens.
There are gardens and there are gardens. Even with all the time in the world my garden would never look anywhere near as amazing as those at Le Manoir. The vegetable patch has something to look at, smell or gawp over everywhere you look. As we were walking round the lake, veg patch, mushroom garden and heritage allotment we were greeted with a cheery, "Mes enfants!", and turned around to find Raymond coming to join us. He was so passionate about his vegetable garden (I didn't know but RB is president of the Soil Association) and it was a delight to share his enthusiasm for what he grows. And, in case you were wondering, there were plenty of, "Voilas", "Oooh La Las" and "Adams" throughout the evening.
We went through into the cookery school to begin the class and I was surprised to find the class is actually in the professional kitchen and you can see the chefs busying away! The cookery school's reputation precedes it and it's not hard to see why. There are stations for everyone; individual hobs, ovens, sinks, fridges, all the ingredients are prepped and ready and there are plenty of chefs (and the head of the cookery school Mark Peregrine) around for you to ask questions (sorry Adam!) and clear up should you make a mess *ahem* (again, sorry Adam!).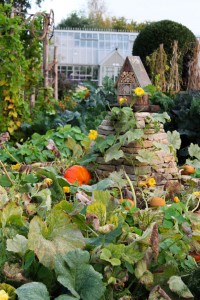 We started with Raymond showing us his upside down chocolate crumble and how to make it in the Kenwood mixer. We then went off to make our own with Raymond coming around to see how we were getting on. I was paired with Tara and we both had a go at all the stages of making our own. It was wonderful to have all the ingredients and equipment to make everything ready and around you. Nothing like my kitchen at home!
Adam then showed us how to make a cheese soufflé tart and I can safely say there were no soggy bottoms in sight and everyone had soufflé success! I normally make pastry by hand but do find it annoying when it all gets stuck in my nails! I'm glad I've made it in a mixer now so I know how to do it at home. I mean, it is as easy as you think adding the flour and salt with the butter then adding the water and egg but for some reason I've not tried it before.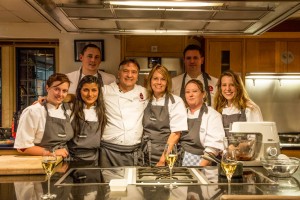 We did run out of time to make some Kirsch soaked babas so we just ate the ones Adam made instead! We got to eat everything we made and what a treat to have soufleé for breakfast and the chocolate crumble after dinner the following day.
Using the mixer showed me how much easier it can be to make what we did. We were using the new Kenwood Chef Sense, available from John Lewis, and I really liked that you could fully enclose the mix minimising any mess. I have a Kenwood mixer at home but have only really used it for cakes and meringues. I've never tried making crumble, pastry, bread or souflee but now I know I can I certainly will again. I was sat next to the mixer during Raymond and Adam's demos and was surprised that I could hear everything they were saying over the top of it no problem.
I do feel a little bit like I could take on any recipe with my Kenwood now!
It was a wonderful evening in a fabulous setting with a group of very lovely people.
A huge thank you to Le Manoir Cookery School, Mark Peregrine and the school assistants, Raymond, Adam, Kenwood and John Lewis. All opinions and words expressed are my own.