Picky and sharing food is my favourite kind. To have a table covered in all sorts of plates and bowls offering a different flavour or texture is a sight for sore eyes. It's something I like to take time over shopping for too but sometimes I don't have the time I'd like to have to go to the deli and pick bits out. Enter Nife is Life the Italian online deli.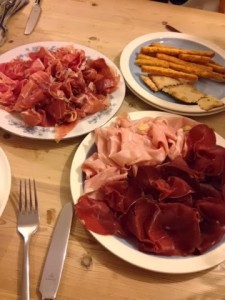 We were sent a range of products to try from their online shop including:
Tomato Sfilati (breadsticks)
Olive Sfoglie (crackers)
Grana Padano DOP
Prosciutto Riserva
Speck Alto Adige IGP
Mortadella from Bologna IGP
Bresaola Punta d'Anca della Valtellina IGP
Burrata from Puglia
Nonno Nanni Stracchino
Mixed Olives with Herbs
Sundried Tomatoes with Grana Padano
Grilled Artichokes in oil
(IGP meaning Protected Geographical Indication (which in Italian is Indicazione Geografica Protetta hence the rearrangement of the acronym) and DOP meaning Protected Designation of Origin (or in Italian, Denominazione di Origine Protetta).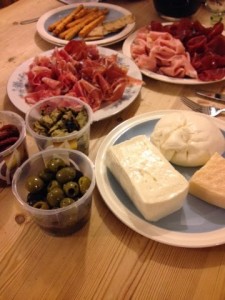 The way the meat was packed was really handy; easy to peel off without it all getting stuck. The Mortadella was my favourite (it always is) and the Prosciutto had a lovely fruity flavour. The Bresaola had a faint spicy note to it and the Speck nice and smoky. The olives were easily the best pre-packed olives I've had, not too briny, and there were loads of tomatoes and artichokes in the packs. The Burrata was delicious; first time I've tried one and certainly not the last. I really liked spreading the Stracchino on the olive crackers (Sfoglie) and topping with a sundried tomato. We've got a great big wedge of Grana Padano to use too; ideal for risotto. 
I liked coming home to this box of treats putting it all on the table and dipping in and out of it throughout the evening (we didn't eat it all in one evening though!). It was also good to know that I could look forward to one of my favourite meals and it was waiting for me at home.
Thank you to Nife is Life for the box of goodies. All opinions expressed are my own.